The famous Canadian vocalist is being accused of 'going over to the dark side' by promoting 'ugly' and 'demonic' gender-neutral gear for kids.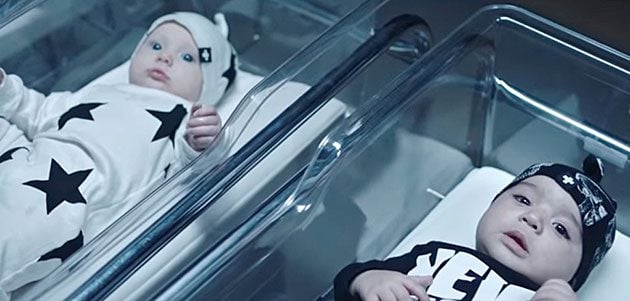 Expressing her horror over what she describes as a "creepy" range clothing, Patti Armstrong – in an hysterical piece for the National Catholic Register – revealed that she had her worst fears about Dion messing with the occult confirmed by "a wise spiritual director", Pennsylvanian exorcist John Esseff who, bye the bye, was once involved with a corrupt charlatan called Mother Teresa.
Esseff told Armstrong:
I'm convinced that the way this gender thing has spread is demonic. It's false. I don't even know how many genders there's supposed to be now, but there are only two that God made.

The devil is going after children by confusing gender. When a child is born, what is the first things we say about that child? It's a boy, or it's a girl. That is the most natural thing in the world to say. But to say that there is no difference is satanic.
He said that although the devil has been at war with humanity from the the year dot he noted that satanic attacks have now become bolder.
For pity's sake! All this hysteria over a humorous little video.
But Armstrong sees it differently.
If this were just another story of a celebrity engaged in the occult, I would not have given it my attention. But since children are involved, I am hoping that others will join me to pray for those poor children who have become pawns of evil and for the adults who are so ignorant.
Dion partnered with Nununu's alternative clothing company to create the CELINUNUNU video. According to the company's website:
CELINUNUNU liberates children from the traditional roles of boy/girl and enables younger people to grow on values of equality with the freedom strengthen their own power of personality based on mutual respect
And it claims to introduce children:
To the wonderful mystery of minimalism. Nununu lets kids shine at every stage with a kickass cocktail of attitude and a big sense of humor.

Wrote Armstrong:
Aside from the clothing being hideously ugly [it's not], occult themes on children is disturbing. The babies and children look sullen. Who would pay $77 for a baby blanket with skulls or $161 for a jacket that looks like a trash bag. And who wants a baby playsuit with skulls?
And she lamented:
Some people don't see the darkness that I see as blatant. Here are a couple of Twitter reactions: 'Celebrity #fashion lines are almost a dime a dozen. But @celinedion's #Celinununu is actually smart, fun, and backed by the right messaging for a change. I'm there!

'How cool are Canadians?!! How cool is @celinedion for stepping up to the forefront with her new #genderneutral clothing line #celinununu #LGBTQtwitter'