Adam Thomas, 22, and and his partner Claudia Patatas, 38, were found guilty at Birmingham crown court this week of being members of the extreme right-wing organisation National Action, which was banned in 2016.
Now here's the weird part: Thomas, who has a baby called Adolf in "admiration" of Hitler, claimed to have lived in Israel for nearly two years in a bid to convert to Judaism.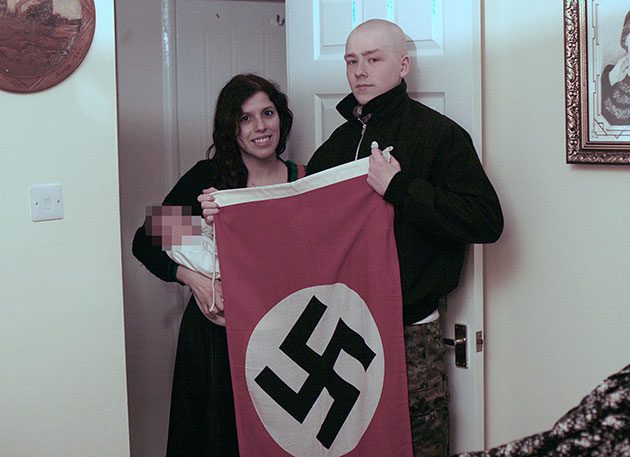 During evidence in his defence, given from the witness box, Thomas – a self-confessed Holocaust denier and racist – said he moved to Israel when he was 18.
He said he was motivated to look at converting because it would have allowed him to join the Israeli military.
But Thomas, of Waltham Gardens, Banbury, Oxfordshire, who told the jury he lived in kibbutzes and at a college while in Israel, said he "just lost interest" and returned home in August 2016.
He met Patatas – who jurors heard told a chat group "bring back concentration camps" – in a pub in December that year, and had a baby with her at the end of 2017.
Thomas had told police in interview that he was a Holocaust denier, and under cross-examination before the trial jury said the issue was "complicated".
On the first day of his evidence, barrister Paul Wakerley asked Thomas:
At some stage, aged 17, you decided you would convert to Judaism?
Thomas replied:
I finished college and, just after turning 18, I moved to Israel, and lived there just under two years. I lived with very different people, I stayed on a farm, and a kibbutz.
Asked if he mixed with Jewish people, he replied:
I did, the population is Jewish and I was interested in converting to Judaism at that stage.
The former Amazon warehouse security guard added that he had done "security" work while over there, as part of an interest in joining the military.
He said:
If you do convert to Judaism, it comes with a passport and that allows you to join the Israeli military.
Asked why his plans changed, he added:
I just lost my interest in that and couldn't see what I was chasing. I stopped being able to see what was out there for me.
On returning to the UK, he got talking to Patatas – who was then going through a relationship break-up – through the Telegram messenger app, along with other National Action members.
The couple first met at in a pub on Boxing Day 2016, in a group meeting also attended by one of the co-founders of National Action, Ben Raymond.
Photographs taken at Thomas's Banbury home by counter-terrorism officers, following their arrest in January 2018, revealed that Nazi and Ku Klux Klan symbols were very much part of the domestic set up.
There was a KKK flag hanging in the lounge, scatter cushions emblazoned with the Nazi party symbol, and a pastry cutter in a kitchen drawer shaped like a swastika.
A third defendant, Daniel Bogunovic, from Leicester, was also convicted of being a member of National Action. The warehouse worker was a leading figure in the organisation's Midlands chapter.
Jurors were told Bogunovic already had a conviction from earlier this year for stirring up racial hatred after being part of a group that put up offensive stickers at Aston University in Birmingham.
Thomas, a twice-failed army applicant, was also convicted of having a terrorist manual, the Anarchist's Cookbook, which contained instructions on making "viable" bombs.
The three defendants will be sentenced on 14 December.