If there's a battle to be fought for non-religious voices to be heard in social and political spheres, you can bet your bottom dollar that Barbara Smoker will be among those leading the charge for inclusion.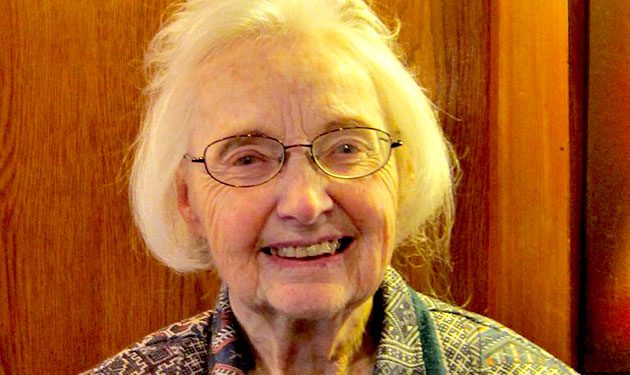 This veteran 94-year-old British activist and writer has again targeted the BBC, which for years has resisted calls to allow non-religious voices on a morning slot called Thought for the Day.
Smoker, President of the South East London Humanists Group (SELHUG), last month attended the latest in a series of demonstrations held outside the BBC's headquarters in London. She handed over a letter to the corporation, accusing it of "gross impertinence".
If the name of the slot was 'Prayer for the Day' we would not want to take part in it, but it is gross impertinence to deny us 'Thought'. We urge you to take our message seriously and end the discrimination against humanism and other non-religious worldviews.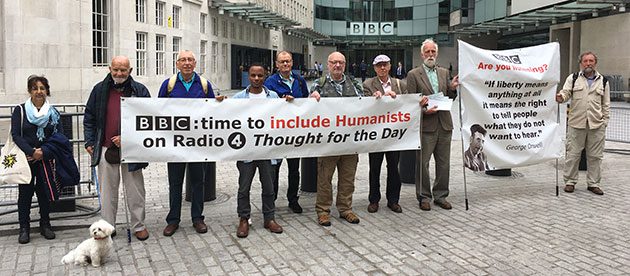 Smoker, a former President of the National Secular Society (NSS), led an important chapter in the Thought for the Day campaign – back in 2002. She and the NSS threatened legal action against the BBC, asserting that the ban on non-religious contributors was a breach of her human rights.
The case was widely reported, and supported by playwright Harold Pinter, Richard Dawkins and former Labour Party leader Michael Foot. They were among over a hundred others who wrote to BBC governors asking for atheist and secular thinkers to be included.
In the letter she handed in to the BBC last week, Smoker said:
This year my local group, South East London Humanists, has taken up the protest once more on behalf of all those, non-religious and religious, who recognise that an interest in life's big questions, social welfare and current affairs is a human trait and not exclusive to religion.
Smoker, in her youth, toyed with the idea of becoming a Catholic nun, but in 1949 she renounced Christianity and joined the secular humanist movement.
As President of the National Secular Society from 1971 to 1996, she represented the atheist viewpoint in print, on lecture platforms and soap-boxes, in speaking tours, in debates, and on radio and TV, and in 1981 gave spoken and written evidence on religious education to the Parliamentary Select Committee on Education and Science.
She also officiated at non-religious funerals, wedding ceremonies, gay and lesbian commitments and baby-namings, and trained other secular humanists to do so.
Next demonstration
The next demonstration is on Tuesday, November 13 from 8am to 10am outside Broadcasting House, when an open letter to BBC Director-General Tony Hall signed by over 30 Humanists UK patrons will be handed over.
Campaign organisers say:
Please come along to be part of this little piece of history – another blow for the right of the British public to know about humanism and the non-religious ethical tradition.
A statement on SELHUG's website says:
Religion doesn't hold a monopoly on ethical worldviews. There is another mainstream tradition as old as religion, called humanism.
Humanism is a positive, everyday philosophy which encourages us to value ourselves and recognise that other people are as valuable as we are. That has deep implications for the way we treat each other and our environment.
The BBC is failing in its legal duty to treat non-religious beliefs equally with religious beliefs, 'belief' being defined as "a collective belief in, or other adherence to, a systemised set of ethical or philosophical principles or of mystical or transcendental doctrines" (Communications Act 2003).
The BBC is also failing its remit to reflect the diversity of beliefs of its audience and the wider population. Over half the British population do not belong to any religion1 and around half of those have a humanist worldview2.
In Scotland where Humanist weddings are legal, more people choose them than ceremonies conducted by the Church of Scotland or any other denomination or faith. Amongst under-30 year olds in the UK, 70% have no faith3.
To argue, as James Purnell (Director, Radio and Education, BBC) does, that non-religious views are sufficiently represented across 'the whole of the BBC's output' is to miss the point – that humanism is an equal partner in the 'belief' category.
We call on the BBC to address this injustice and include humanists, and holders of other non-religious beliefs, on Thought for the Day.
• Editor's note: In 2016/17 The Freethinker published two Kindle versions of Barbara Smoker's Humanism: for inquiring minds and Freethoughts: Atheism, Secularism, Humanism – Selected Egotistically from The Freethinker.