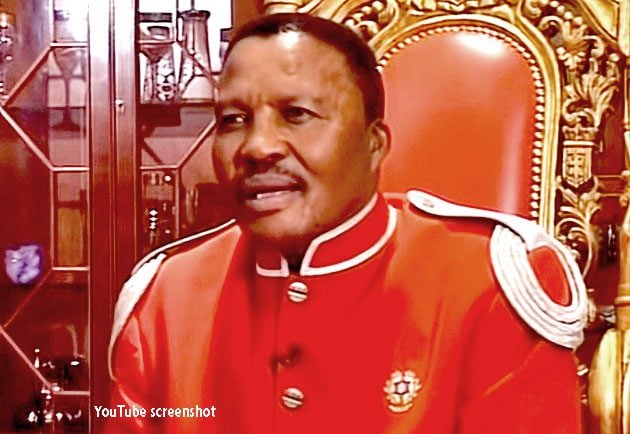 When bishop Glayton Modise, above, head of the International Pentecostal Holiness Church in South Africa, died in 2016, disputes broke out over who should succeed the man known as 'The Comforter'.
Then last week things turned distinctly ugly when rival groups opened fire and pelted each other with rocks.
The clash happened on Thursday outside the church in Silo, Zuurbekom. Three people were injured and 12 cars were badly damaged.
Gauteng police spokesperson captain Mavela Masondo explained that the battle began when a convoy of vehicles carrying worshippers parked outside the church.
As they were about to enter the church premises, another group inside the church charged at them. During their confrontation, firearms were drawn and three people were injured.
A witness who chose to stay anonymous said that the two rival church groups at first held talks, but then started pelting each other with rocks, which led to the shooting.
IPHC, which has over three million worshipers in South Africa and neighboring countries, has reportedly been divided following Glayton Modise's death.
Fights over the vacant leadership role have led to a number of court battles, but the issue remains unsolved.
Last year it was reported that 115 million South African rands (around $8 million) had disappeared from the church's vaults after Modise's death.
Another congregant who wasn't identified said that he and others who arrived Thursday morning in the convoy of vehicles:
Were attacked for no reason. They just arrived in a large group, armed with guns, sticks and bricks, and charged at us. We then fled on foot, leaving our vehicles behind. They then damaged our cars and fired shots in our direction.
The event on Thursday was meant to be a men's conference, which began with singing before the fight broke out.
The fighting went on for hours, police said, with officers arriving at the scene successively preventing even more church members from joining in the clash.
No arrests have yet been made, though Mosando revealed that there will be high police visibility in the area.