A vigil held this week to mark the 80th anniversary of Kristallnacht, the name of  the Nazi pogrom perpetrated in 1938, was violently disrupted at Hyde Park in central London by about 20 Muslims.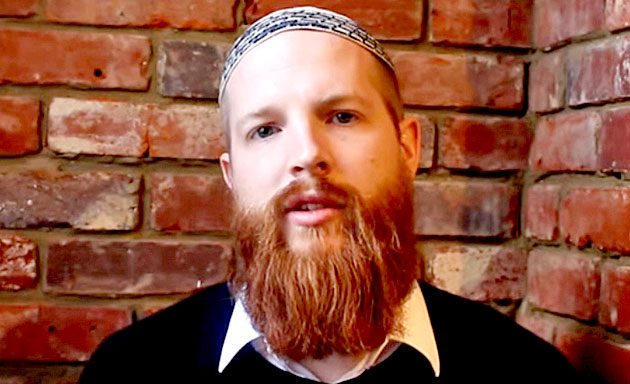 Joseph Cohen, above, an Israel Advocacy Movement activist, was reported here as saying:
As if on cue, before we'd even begun, an extremist began screaming a death chant of Jews. The vigil went from bad to worse, they shouted us down, they would not allow us to remember our dead until we had to call off the vigil.
Cohen said his talk was drown out by the Muslims who shouted:
Jews, remember Khaybar, the army of Muhammad is returning.
The cry relates to an event in the seventh century when Muslims massacred and expelled Jews from the town of Khaybar, located in modern-day Saudi Arabia. Some of the men shouted about "Palestine", surrounding the pro-Jewish activists and shoving them.
A German woman who witnessed the event said:
A Christian was preaching and the atmosphere was friendly, a Muslim was preaching, and there were shouts but the atmosphere was still friendly but as soon as Jews wanted to honor their dead a whole of crowd appeared out of nowhere, as soon as the [Israeli] flags appeared, the cursing began against people who only wanted to honor their dead.
Although this is a separate issue, there has been a row simmering for some time about the use of the Hyde Park by praying Muslims. The park's regulations prohibit all acts of worship. This is how Muslims treat the ban: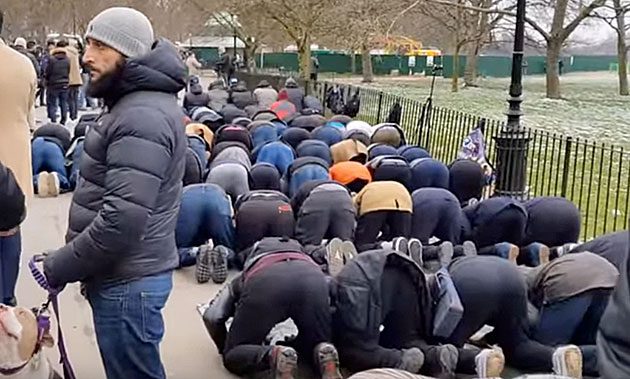 The Royal Parks (TRP) is unequivocal about the regulation. It says:
It does not permit collective acts of worship or other religious observances in the TRP estate, either in their own right or as part of a demonstration, event or other activity. This includes spoken or sung communal prayers or other events that are primarily religious in focus.

Exceptions are made for annual acts of remembrance at the regimental memorials in the Parks, which have taken place since the First World War.

As a public body, it is not the place of The Royal Parks to make value judgments between one religious observance and another. We must either permit all collective religious observances or refuse them all …

Earlier this year a person called Edward Williams made a Freedom of Information request to Metropolitan Police Service (MPS) asking why the police were turning a blind eye to these Islamic gatherings, and asked whether there was any truth (as purportedly shown in a video) that police officers told a member of the public  that Muslims had been allotted a place in the park to worship.
The MPS responded by saying that:
The requested information cannot be provided to you as it is not held by 
the MPS.

The MPS has received a number of enquiries recently regarding the 
religious activity that has been taking place in this area of Hyde Park.

I am sorry to hear that you have watched a YOUTUBE video which appears to 
show MPS constables stating to a member of the public that an area has 
been set aside for (Islamic) prayer and that prayer is lawful and allowed 
in Hyde Park.

This is not the case. No group or individual has been given any 
dispensation to pray in this or any area of Hyde Park.

As the Metropolitan Police we enforce The Royal Parks and Other Open 
Spaces Regulations 1997, we do not police policy.
There is currently a petition calling on the authoritioes to "enforce the rules regarding praying at speakers corner for all religions".