Investigations into abusive Catholic priests in Iowa have have brought to light a bizarre episode in which one gentleman of the cloth attempted to rape a woman at a shopping mall, then declared his intention to rape a policeman who arrived on the scene.

Father Jeremy Wind, said to have been trouserless at the time of his arrest in 2013, was allowed to resume his clerical duties after the Diocese of Sioux City satisfied itself that his "mental health episode" had been successfully treated.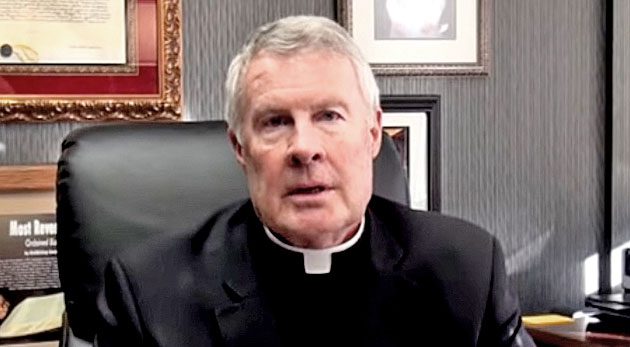 The Wind case, according to this report, follows a statement made in October by the diocese's bishop R Walker Nickless, above, which acknowledged that that it had covered up the crimes Father Jerome Coyle, who admitted to then to then-Bishop Lawrence Soens that he had sexually abused 50 boys over a 20-year period. The diocese sent Coyle to a treatment center for accused priests in New Mexico, where he lived and worked as a civilian for decades.
Soens himself was accused of abusing boys when he was a priest and principal in the 1960s in Iowa City, and the Diocese of Davenport paid settlements to his accusers. Soens, 92, never faced criminal charges and now lives in a Catholic retirement home in Sioux city.
This week the Diocese of Sioux City, in a statement, defended its decision to continue employing Wind. The statement came in response to inquiries from The Associated Press, which used the state's open records law to shed light on a criminal case that was recently erased from public court files.
Police reports show that Wind, 39, was meeting with a female parishioner at a bakery in December 2013 when he began behaving erratically. He had just celebrated Mass at Christ the King church in Sioux Center, a town of 7,000 people in northwest Iowa.
Wind told the woman he was going to masturbate and took off his pants, prompting her to run away, she later told police. Wind chased her to her car, where she locked the door as he yelled about raping her and pounded on the vehicle's window.
A Sioux Center police officer found Wind at the nearby Centre Mall, where he said he had no pants on because he "wanted to rape her" and instructed the officer to write that statement down. He later said that he also wanted to rape the officer.
Wind ripped off the officer's name tag and punched the officer. He was handcuffed on the ground as a deputy pointed a Taser at him.
The priest was charged with misdemeanor disorderly conduct in a criminal complaint that didn't mention the woman or his statements about rape. Under a September 2014 plea bargain, he received a deferred judgment, paid a $200 fine and was put on "informal probation" for one year.
The agreement said Wind was:
Experiencing mania along with psychosis which prevented him from understanding his conduct at that time.
All records related to the case disappeared from the Iowa courts online database this year, after Wind was transferred to the Cathedral of the Epiphany in Sioux City.
Sioux County Attorney Tom Kunstle said the AP would have to seek a court order to get him to answer any questions about the case. He summarily rejected an open records request for his correspondence related to the matter.
The diocese said Wind had received counseling and medical treatment for mental illness and:
Has since provided exemplary spiritual and priestly care to his parishioners.
Wind is on medication and follows:
A lifestyle regimen that enables him to function without problems.