A century ago Scotland snuggled up to the Catholic Church, and agreed – under the Education (Scotland) Act 1918 – that Catholic schools would be brought into the state system. Taxpayers, of course, would foot the bill.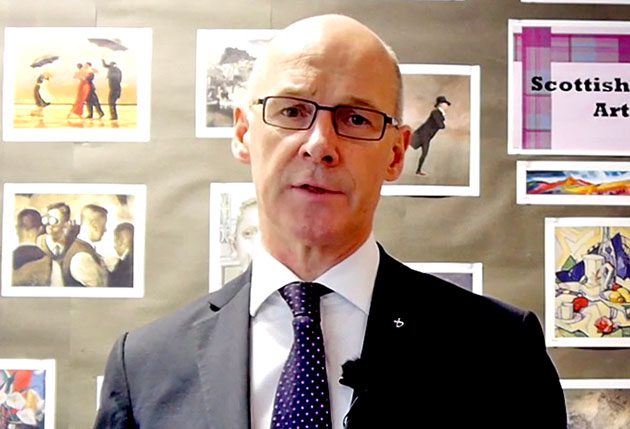 In a grand celebration to mark the centenary Scotland's Deputy First Minster John Swinney, above, banged on at length about how good Catholic education was for the country. So good that he plans to send his son to a Catholic school.
Catholic schools I feel are an essential part of our education system. They deliver education, anchored within values …. and my wife and I have made the choice that our son will be educated within that tradition.

And that matters to us because we believe he will have an education based on the teaching of Jesus, and we think that will equip him with the goodness, the resilience and the strength he needs for his life.
If I were John Swinney I'd think very carefully in future before praising a church which has a deplorable record of child abuse spanning decades within its some of its institutions.
When asked what the message he had for to secularists who criticise state funding of faith schools in Scotland, Mr Swinney played the slippery eel with this non-answer:
I think we've got all the evidence that demonstrates that there is strength and quality in the Catholic education system. From the Scottish Government's perspective we feel that it's important that parents have the opportunity to send their children to Catholic schools. We'll continue that tradition and it's a vital part of the quality of the education system.
The Nuncio of Great Britain, Archbishop Edward Adams, was among the great and the good at the centenary shindig and asserted:
Catholic education seems to nourish each generation not only by cultural and technical notions but also and above all by love and we can say by the love that is the message within the Gospel of Lord Jesus Christ.

It is precisely this type of education which takes to heart and addresses every type of poverty among young people; moral, physical and above all spiritual, that spiritual poverty, which is the root of every serious human problem.

So with these sentiments and as the representative of Pope Francis in this country I offer to all who are celebrating the centenary of the Education Act of 1918, congratulations, greetings and the blessing of the Pope.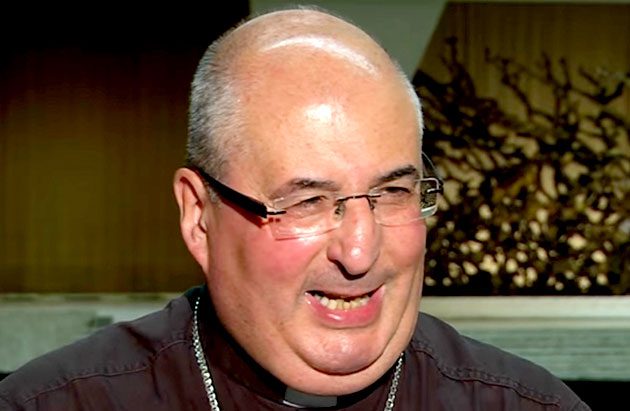 Archbishop Philip Tartaglia, above, of Glasgow added:
The 1918 Education Act was an incredibly visionary settlement and it was based on social justice for community. We are delighted that the Scottish Government sees that this settlement is important, not just for Catholic community, which has thrived, but also for Scotland. Catholic schools are good for Scotland, and we're grateful to the government for their assurance of support.
This is the same archbishop who, in 2015 , offered a "profound" apology to victims of "criminal and sinful" abuse within the Catholic Church in Scotland.
Tartaglia also said the Church is "pained and shamed" by incidents of abuse that have taken place within it. He said:
As the president of the Bishops' Conference, and on behalf of all the Bishops of Scotland, I want to offer a profound apology to all those who have been harmed and who have suffered in any way as a result of actions by anyone within the Catholic Church. Child abuse is a horrific crime. That this abuse should have been carried out within the Church, and by priests and religious, takes that abuse to another level. Such actions are inexcusable and intolerable. The harm the perpetrators of abuse have caused is first and foremost to their victims, but it extends far beyond them, to their families and friends, as well as to the Church and wider society.
The archbishop added:
I would like to assure the survivors of abuse that the Catholic Bishops of Scotland are shamed and pained by what you have suffered. We say sorry. We ask forgiveness. We apologise to those who have found the Church's response slow, unsympathetic or uncaring and reach out to them as we take up the recommendations of the McLellan Commission."
The apology came after the McLellan Commission delivered a very unsatisfactory report about clerical abuse within the Catholic Church in Scotland. The report, written by Andrew McLellan was widely condemned as:
A whitewash" … So soft and fluffy … that it should have been delivered with a big pink ribbon tied around it and pictures of Walt Disney characters on its cover.
The report failed to name any guilty individuals or analyse the church's denial of wrongdoing. It simply repeated known facts: that historical sex abuse occurred within the Church, and that there was a culture of denial and lack of support for victims. The report did not make recommendations on future safeguarding.