Back in June, the International Humanist and Ethical Union (IHEU) revealed that there are 12 countries in the world in which non-believers can be sentenced to death under "apostasy" laws. Pakistan and the 'blasphemy' case of Asia Bibi stands out as a particularly egregious example.
In drawing attention to these countries – and many more where "blasphemy" laws are used to stop humanists promoting human rights, including women's rights, LGBTI rights and non-religious rights – IHEU launched a "Protect Humanists at Risk 2018" fundraiser, and I was delighted to learn this week that a UK charity with which I am closely involved, The Pink Triangle Trust, stepped up to the plate and donated £1,000.00.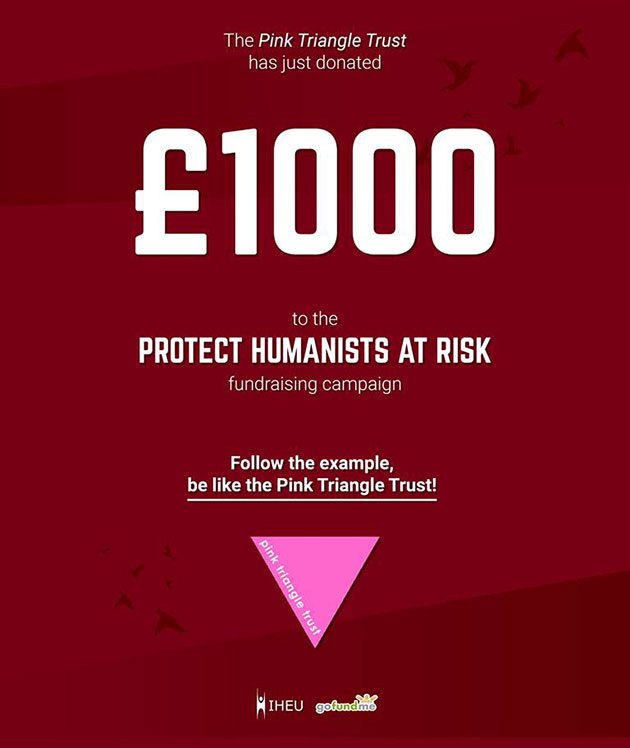 Just over another £1000,00 will take the organisation to its target of £20,000.
My involvement with trust goes back a number of years, and takes the form of producing a quarterly online magazine on its behalf: The Pink Humanist. I also manage its website.
The PTT, established in 1992, is the only charity in the UK dedicated to advance the education of the public, and particularly of lesbians and gay men, in the principles and practice of humanism, and to advance the education of the public, and particularly of humanists, about all aspects of homosexuality.
It may also assist individuals to obtain remedies under the law where they have suffered unlawful discrimination on account of their homosexuality or their Humanism.
In recent years, the PTT has made a number of generous donations to African organisations set up to advance Humanism.
In launching its 2018 appeal, IHEU identified countries – including Malaysia, Egypt, Afghanistan and Iran – in which Humanists have been threatened with prosecution or violence, and that people have been prosecuted by the state for crimes such as "apostasy" or "promoting atheism" or "enmity against God" in countries including Saudi Arabia, Iran, Sudan and, of course Pakistan, which recently suffered days of rioting after Asia Bibi was freed.
And in yet other countries including Poland, Moldova, Turkey, Hungary, Bulgaria, Russia and the United States, populist movements and demagogic leaders have coupled with authoritarian religious movements, creating a toxic atmosphere for democracy, threatening secularism and non-religious rights.
But IHEU, against severe odds, is making headway in its efforts to transformed the way that human rights for non-religious people are seen, drawing world-wide attention to the targeted violence and systematic discrimination faced in many countries.
According to its fundraiser, in the past 12 months alone it has:
• Supported and advised 24 individuals and groups at risk from 9 different countries.
• Campaigned to protect members of the Malaysian Atheist group in Kuala Lumpur being threatened with prosecution.
• Launched a sixth annual edition of the IHEU Freedom of Thought Report which has grown increasingly influential at the UN and on the international discourse around "freedom of religion or belief" and non-religious rights.
• Through our advocacy work at the UN and elsewhere we have lobbied the governments of Bangladesh, Egypt, Pakistan, Malaysia, Maldives, Saudi Arabia, Sudan and more to drop anti-atheist laws and policies.
• Lobbied the European Parliament of the urgent need to show moral leadership and repeal all "blasphemy" laws across the EU.
• Delivered a new training programme on human rights and the non-religious for the European External Action Service at the European Parliament in Brussels.
Please help IHEU attain its goal by visiting its GoFundMe page. You can also make a donation to the PTT via its website.