On Monday Donald Trump will be in Mississippi to rally support for Senator Cindy Hyde-Smith.
Hyde-Smith, an ardent segregationist and 'pro-lifer', also has the support of Governor Phil Bryant, who said of her anti-abortion activism:
This Christian woman, this mother, this wife has fought hard to protect those unborn. And she will do so in the United States Senate as she continues.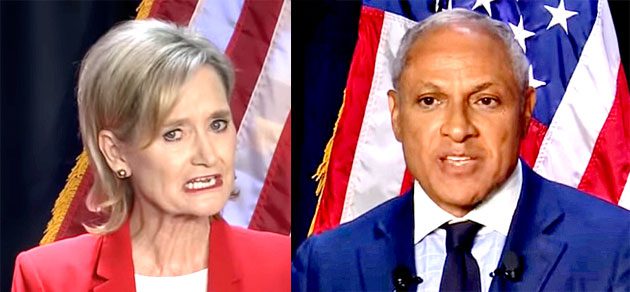 Hyde-Smith is facing Democratic challenger Mike Espy in a runoff for the Senate seat – but her campaign hit a few bumps in the road after a video surfaced showing her praising a friend by saying:
If he invited me to a public hanging, I'd be on the front row.
The video went viral, and critics said it evoked an images of lynchings of African-Americans. Espy, Hyde-Smith's opponent, is African-American. The stupid woman insisted she she had been "joking" at the time.
Now it's been revealed by The Jackson Free Press that Hyde-Smith Hyde-Smith attended and graduated from a segregation academy set up so that white parents could avoid having to send their children to schools with black students.
In the Lawrence County Academy yearbook, called
The Rebel
, Hyde-Smith is seen in a cheerleader outfit under a mascot dressed up like a Confederate general and holding a Confederate flag.
Ashman Pittman, writing for JFP, said:

The photo, and the recently appointed Republican senator's attendance at one of the many private schools that was set up to bypass integration, adds historic context to comments she made in recent weeks about a 'public hanging' that drew condemnations from across the political spectrum.
Not only did Hyde-Smith attend the "seg academy", but she also sent her daughter to Brookehaven Academy, another segregation school.
Pittman added:
Even to this day, Brookhaven Academy, from which Hyde-Smith's daughter graduated in 2017, is almost all-white. In the 2015-2016 school year, Brookhaven Academy enrolled 386 white children, five Asian children, and just one black child, the National Center for Education Statistics shows. That's despite the fact that Census statistics show Brookhaven is 55 percent black and 43 percent white, per 2016 Census estimates.
In addition to her "public hanging" comments she was seen wearing a Confederate hat and accepted a $2,700 donation from a notorious white supremacist.