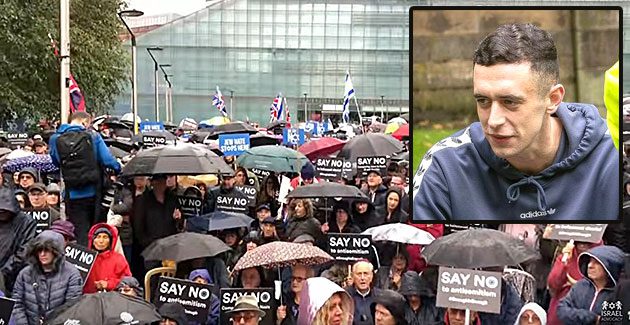 Joseph Brogan, inset, who gave a Nazi salute and accused Jews of being 'child killer' at Manchester rally staged to protest against anti-Semitism, was jailed this week for six months.
In sentencing Brogan, 27, for a racially aggravated public order offence, Judge Martin Rudland at Manchester Crown Court said a message needed to be sent that, especially in the current climate, behaviour like this wouldn't be tolerated.
This was targeted specifically at members of the Jewish community at a rally which was lawfully convened in this city. Anti-Semitism is an issue currently for those in authority, not only those in charge of law and order but those in charge of political parties.

This country has a proud history of tolerance and harmony, and by and large we are good at it.

There have been difficult times for some minorities and these are difficult times for members of the Jewish community, who have a long and fine tradition of contributing to the fabric of this city.

What you did was express words which are highly offensive and which you must have known were highly offensive.

Resorting to the Nazi salute which is an extremely provocative gesture and which has no place in our society, to a community who were peacefully demonstrating, is something the courts must take extremely seriously. It was outrageous.
Brogan claimed he was "just expressing his views about Zionism" when he abused Jews at the September, 2018 gathering. He said he didn't remember making the gesture and that if he did he must have done it "in the heat of the moment."
Shirlie Duckworth, defending, said he now accepted that his freedom of speech "was not his absolute right" and that he had caused upset and offence.
His actions were not pre-planned, they were impulsive, and although significant were limited in effect as he was quickly dealt with by the police.
Brogan already has two other convictions for similar offences, the court was told.