In the past 18 years more than 500 Catholic churches have closed in Germany – a third of which were demolished – while the remainder were sold or used for other purposes – such as an exhibition of pornography.
Meanwhile, more than 500 churches are due to close in the Netherlands over the next decade.
This fact emerged at a recent conference in the Vatican entitled, Doesn't God Dwell Here Anymore? Decommissioning Places of Worship and Integrated Management of Ecclesiastical Cultural Heritage.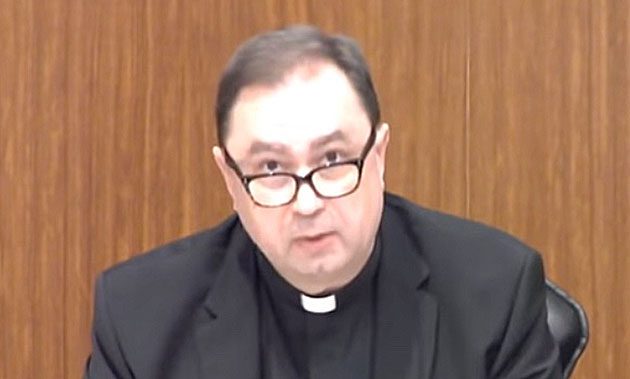 Explaining the extent of the problem, Father Paweł Malecha, above, of the Apostolic Signatura, the Vatican's highest judicial authority, glumly told delegates from 23 European countries and some from North American and Oceania, that:
The phenomenon is spreading.
Those in attendance were also dismayed to hear that churches closed for worship were being put to unholy uses.
Numerous cases, they were told, exist of closed churches being used as nightclubs, restaurants, a mosque or even, in the case of a deconsecrated 12th-century frescoed church in Cascia, Italy, for a pornographic exhibition.
Cardinal Gianfranco Ravasi, president of the Pontifical Council for Culture, said that a former church can be "secularised but not desecrated."
To make it into a pizzeria is blasphemous [but] it's okay for it to be a museum or a meeting place …
Attending the conference from the United States was Patrick Hayes, an archivist for the Redemptorists in Philadelphia and a board member of the American Catholic Historical Society. He said the deconsecration and decommissioning of churches is happening with "vigour" and that:
There's no drawing back from it. It's a wave that just can't be stopped.
He added :
It is possible to keep churches open, even older ones, even dilapidated ones, as long as there's money and a will.
He said one reason for selling church property, especially after the sex-abuse scandal in Boston, when many churches were closed in 2004, has been to settle expensive lawsuits. But he was was surprised that the scandal was "never brought up in any of the public sessions by anyone" at the conference, despite, in the United States at least, the issue being:
The big elephant in the room.
Brody Hale, an American independent consultor on church preservation who also attended the conference, said he found the event "disappointing," due to a lack of emphasis on what is being done to:
Actually save closed churches as sacred spaces.
Hale said he was concerned that some Church leaders seemed to have lost a "sense of the sacred" and was saddened to learn from many conference delegates that a large number of people are today thinking about "turning a church into a museum or a concert venue," but they are not thinking enough "on how to keep it a church."
In his message to the conference, Pope Francis stressed that ecclesiastical cultural assets are:
Witnesses to the faith of the community that has produced them over the centuries, and for this reason they are in their own way instruments of evangelization that accompany the usual tools of proclamation, preaching and catechesis.
In further comments, the Pope said the perception that "many churches" are no longer seen as necessary – either due to a "lack of faithful and clergy" or population shifts:
Should be welcomed in the Church not with anxiety, but as a sign of the times that invites us to reflection and requires us to adapt.