A church in Florida, deemed to have violated its religious exemption status by operating, among other things, a for-profit school, has been hit with a $7.1-m tax bill.
Described as "an ultimate nightmare scenario" in a report in the Miami Herald, the First Presbyterian Church of Miami – the oldest organised congregation in the city –  received notice from the Miami-Dade Property Appraiser that it has to cough up the cash for leasing a portion of church grounds to the school and food trucks.
According to Florida Statute 196.196, only the portions of a property that are used predominantly for charitable, religious, scientific, or literary purposes can be deemed exempt from taxation.
In two complaints filed in civil court last month, attorneys for the church argued that the operation of the school:
Is motivated by the church's sincere religious beliefs.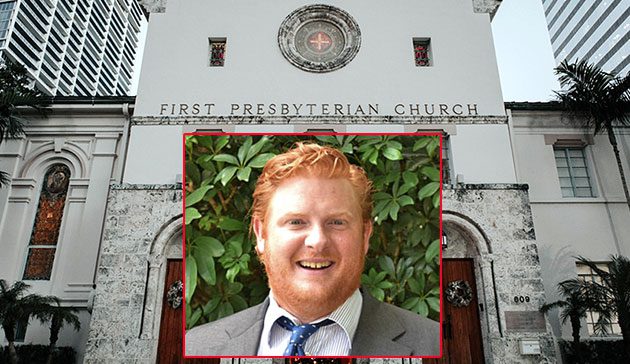 Pastor Christopher Atwood, (inset), who joined the church in 2012, said the school is a critical part of the church's mission. He teaches a chapel class and his daughter is a student.
Atwood said he was unable to comment on the lawsuit, but he remains sanguine about the outcome.
We trust the process. The property appraiser is doing their job and we are doing ours. The rest is in the hands of God.
Attorney Andrew Ittleman, who is representing the church, did not respond to repeated requests to comment for this story.
But some legal experts think the church's discrimination claim will have a tough time sticking in court.
Said Franklin Zemel, a partner at the Fort Lauderdale office of Saul Ewing Arnstein & Lehr, who represents dozens of churches, synagogues and mosques around the country:
What's happening to this church is the ultimate nightmare scenario. I don't see this as religious discrimination. I don't see anything that suggests the county is acting in a mean or arbitrary way. To me, it sounds like you've got a church that is leasing out a school, they're making money and not paying what they owe.
Key Point Christian Academy is the school currently operating on church grounds. It has 178 students and 45 teachers. Tuition for kindergarten through fifth-grade students is $15,850 per year; sixth- to eighth-grade tuition is $16,185.