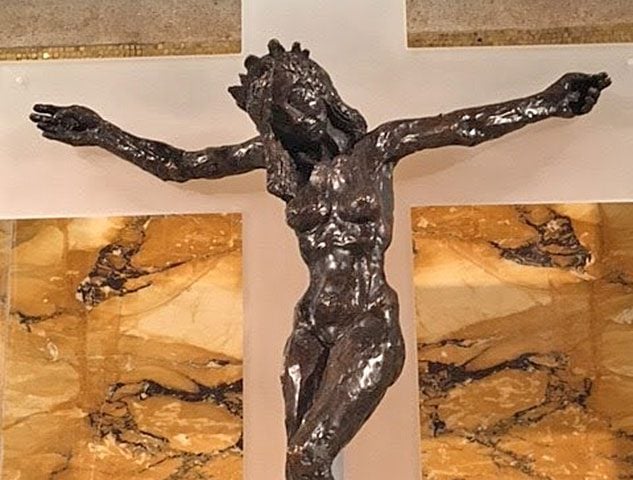 There was a right kerfuffle 34 years ago when a sculpture of 'Christa' was unveiled at New York Episcopal Cathedral of St John the Divine – and there might well further outrage because the image now appears in a new textbook published in the UK for children's religious education classes.
At the time of its unveiling, the then-Suffragan Bishop of New York, Walter Dennis, slammed the nude sculpture as "theologically and historically indefensible".  This led to its removal from the 124-year-old gothic revival church in Manhattan's Morningside Heights neighborhood.
But the authors of Who is Jesus? (PDF) saw no real problem in reproducing the image for their textbook, which aims "do Jesus differently" to encourage pupils to explore how Muslims view him as a prophet. It also examines his Jewish identity.
I can see problems with this concept. Conservative Christians have a horror of nudity, and many Muslims object to the depiction of any human form, particularly if they are naked.
This from Wiki:
Typically, though not entirely, Islamic art has focused on the depiction of patterns, whether purely geometric or floral, and Arabic calligraphy, rather than on figures, because it is feared by many Muslims that the depiction of the human form is idolatry and thereby a sin against God, forbidden in the Qur'an.
So there could well be a backlash from parents of kids from both Christian and Islamic backgrounds against Who is Jesus?
But Professor Rob Freathy, from the University of Exeter, who led the team that produced the textbook , appears pretty sanguine about a publication that aims to make GCSE and A-level religious-education lessons more "rigorous", and encourage pupils to have empathy with others.
Freathy said:
There is no single, neutral and objective answer to the question, 'Who is Jesus?' Answers differ depending on who is being asked. RE teaching and assessment that recognises that, by asking pupils to think about subject matter from different perspectives, is intellectually more rigorous and can promote the educational benefits of open-ended inquiry.

It also best prepares pupils to enter a world characterised by a radical diversity of beliefs, religions and worldviews.
The authors want teachers to move beyond telling the story of the birth, life and works of Jesus. Instead, they say RE lessons should highlight the way in which Jesus is seen by people from a variety of cultural, religious and academic backgrounds, including theologians, historians, feminists, the visually impaired, artists and southern African cultures.
The textbook introduces a team of fictional scholars, who each have different motivations for studying Jesus. Pupils then encounter a range of answers to the question "Who is Jesus?" This includes analysing sources, such as the Bible, the Koran, historical writings, rituals, interviews, architecture, artefacts and art.
"Christa"– created by Winston Churchill's granddaughter Edwina Sandys and the painting Jesus and the Cross Dressers by Brian J Turner, which places Jesus on a road-construction site alongside four male workers dressed in women's clothes – were included to be "provocative."
Freathy said:
We know these images are potentially controversial. They are designed to be provocative. But what we want to provoke is thought, not outrage. According to the gospels, Jesus caused controversy by associating with people who were marginalised at the time, such as tax collectors and prostitutes.

The Jesus and the Cross Dressers painting is used to stimulate discussion about which groups are rejected and excluded today, and perhaps with which groups a modern day Jesus would mix.
I've not had time to read the textbook, but the chapter headings suggest that it fails to invite pupils to consider the notion that Jesus never existed at all.
For the record, "Christa" was put back in the New York church in 2016.