On Tuesday, amidst the sound and fury engulfing the UK as it prepares to scuttle away from the European Union, Prime Minister Theresa May will be putting her exit strategy to parliament. 
Her plan is widely expected to be rejected by MPs of all parties , opening the door to further chaos, division and uncertainty, which is why the Archbishop of York, John Sentamu, thinks that God alone can sort out unholy mess that is Brexit.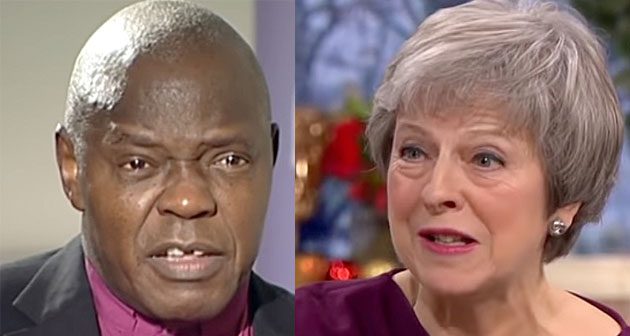 So he's written a prayer:
God of eternal love and power,
Save our Parliamentary Democracy;
Protect our High Court of Parliament and all its members
From partiality and prejudice;
That they may walk the path of kindness, justice and mercy.
Give them wisdom, insight and a concern for the common good.
The weight of their calling is too much to bear in their own strength,
Therefore we pray earnestly, Father,
send them help from your Holy Place, and be their tower of strength.
Lord, graciously hear us. Amen.
He's not the only religious leader to call on God's help the beleaguered Mrs May. The Dean of Southwark, the Very Revd Andrew Nunn has also written a special prayer – and the Chair of the Association of English Cathedrals and the Dean of Lichfield, the Very Revd Adrian Dorber, today urged people to remember their cathedrals were always open for prayer or just to take a moment of stillness and quiet reflection.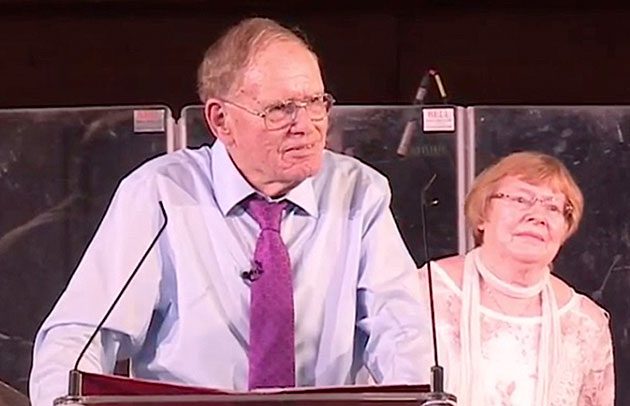 Many right-wing Christians were beside themselves with glee when the UK voted to leave the UK, and one zealot – David Hathaway, above, founder and President of
Eurovision Mission to Europe
and the editorial director of
Prophetic Vision
magazine –
wrote in 2016
:
Just as the preaching of John and Charles Wesley saved us from the French Revolution and our National Days of Prayer called by King George VI during the darkest days of the last war saved us from Hitler, I believe that the prayers of so many of God's people in recent days has set us free from an ungodly yoke which has marginalised Christian faith, made it almost impossible to teach our children the truth of the Word of God regarding marriage between one man and one woman and teach the acceptability of sex change to very young children. Under the guise of 'human rights' legislation, the EU has also sought to prevent us from openly testifying of our faith in Jesus Christ as the only way of salvation.

I believe the EU is the fractured fulfillment of the final empire of Daniel's vision (the feet in Daniel 2:33). We must return to our Judeo/Christian heritage and resist the encroachment of secularism and false religion. One could ask whether the sudden resignation of our Prime Minister [David Cameron] who supported ungodly laws, such as the legalisation of same sex marriage upon our nation, was indeed God's judgement and a challenge to restore true biblical values not only in politics but also the Church.