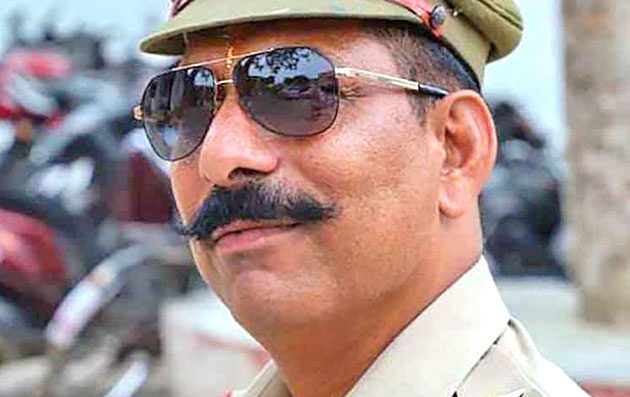 An attempt by police to quell a riot over the slaughter of cows in the Bulandshahr district of Uttar Pradesh lead to the death on Monday of a senior police officer, Subodh Kumar Singh, above, and an 18-year-old youth.
Cows are considered holy by India's majority Hindu population and in recent years there have been a series of violent "vigilante" attacks in response to killings of the animals.
In this latest incident hundred of people rioted after a cow carcass was found dumped in a forest near the village of Mahaw. Some reports stated that as many as 25 carcasses were discovered.
Activists gathered at the spot to accuse another community of slaughtering the animals, and a mob set fire to the Chingawarthi police post.
Senior police officer Anand Kumar said:
Around 400 locals gathered and pelted stones. The inspector was hit on the head and a couple of other policemen also injured.
Video footage on social media showed the inspector's body lying half-out of his damaged police vehicle in the middle of a field.
The police fired in the air and used batons to disperse the crowds and around 1,000 extra officers were deployed to the area to prevent further violence.
A local magistrate has since confirmed that Inspector Subodh Kumar died from a bullet wound to the head.
Uttar Pradesh police said in a statement:
Inspector Subodh Kumar Singh sacrificed his life to uphold law and order in the district. With his demise, we have lost one of our finest officers who will always be alive in our hearts as our hero.
Politics entered the picture when the Communist Party of India suggested that:
Lynch mobs and vigilante groups are now killing policemen in uniform at the behest of BJP-RSS.
This was a reference to Prime Minister Narendra Modi's party and the right-wing paramilitary organisation Rashtriya Swayamsevak Sangh (RSS).
The Indian National Congress party also tweeted:
Why is it that every time there is a case of violence driven by hate, members of the BJP are involved in some way?
Police have arrested four people and named 28 others, including some BJP members. This has angered BJP's President of the Western Uttar Pradesh unit, Ashwini Tyagi, who said in this report:
They were not involved in violence and police should have included their names after investigation.
Demanding a fair probe, he blamed the police for "mishandling" the riot, and also asked how a large number of cows were slaughtered in spite of strict orders from the state government to stop the practice.
A senior police official said yesterday that two FIRs (First Information Reports) have been lodged so far, one under the Prevention of Cow Slaughter Act related to the recovery of cow carcasses and the other for an attack on the police force. He said six teams were formed for the arrest of the accused.