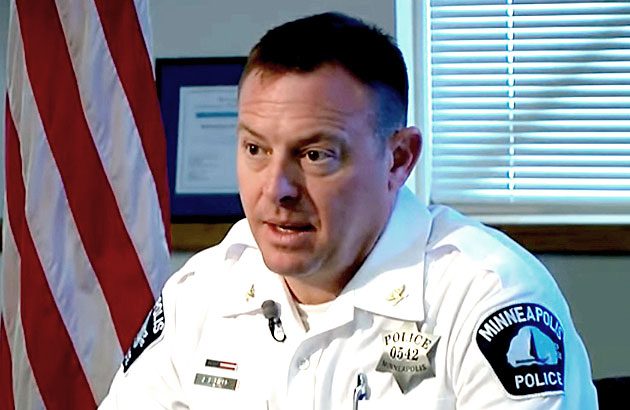 'Racist' decorations hung from a Christmas tree in Minneapolis has led to the demotion of police chief inspector Aaron Biard, above.
All hell broke loose last week when it was widely reported that trash hung from the tree at the Fourth Precinct in north Minneapolis was intended to denigrate black folk.
Two officers – identified as Mark Bohnsack and Brandy Steberg – were placed on paid leave for decorating the tree with "racially insensitive items" such as Newport cigarettes, police crime tape, a can of malt liquor and a Popeyes Louisiana Kitchen cup.
Council Member Phillipe Cunningham wrote on Facebook:
These pieces of trash were deliberately chosen to represent how certain officers feel about the community they serve: that Black people are a stereotype to be mocked and the lives of those they serve may as well be reduced to trash in the gutter.
Biard, of the Fourth Precinct in north Minneapolis will be replaced by the previous commander, Assistant Chief Mike Kjos, until the department finds a permanent replacement.
Biard will return to the rank of lieutenant and work in the traffic unit.
Minneapolis Mayor Jacob Frey called the decorations "despicable" and said they amounted to a "racist display".
This behaviour is racist, despicable and is well beneath the standards of any person who serves the city of Minneapolis. Racism and intolerance is absolutely unacceptable and that should especially be the case among our city employees.
Mayor Frey said he supports the chief's decision to remove the precinct's commander and said:
It reflects his resolve to make meaningful change.
The tree is in the police station on the city's North Side, which has a fractured relationship with police. The precinct was the site of more than two weeks of protests after the 2015 fatal police shooting of Jamar Clark, a black man.
The Twin Cities Coalition 4 Justice 4 Jamar, a group formed after Clark's shooting, has called for the immediate termination of those involved.
'Brings out the animal in ewe!'
I thought that this simply had to be the the most bizarre Christmas report of the week but this evening I learned about a Scottish youngster who was sent by his mum to participate in a school nativity play with a shepherd's outfit and  an inflatable sheep that turned out to be a sex toy.
Helen Cox, 46, paid Amazon £16.99 for the outfit that came with a sheep. She only realised that something had gone horrible wrong when her son, Alfie, five, was told to take the sheep home from his school in Alloa. When she inflated it she found it has it had an enormous butthole and red lips and eyelashes.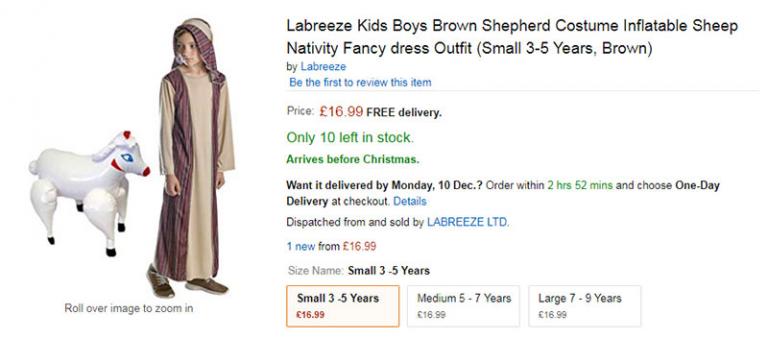 Amazon bosses have reportedly removed the product, but are selling an identical solo "inflatable bonkin' sheep" with the blurb:
Brings out the animal in ewe!
H/T BarrieJohn (sheep report)