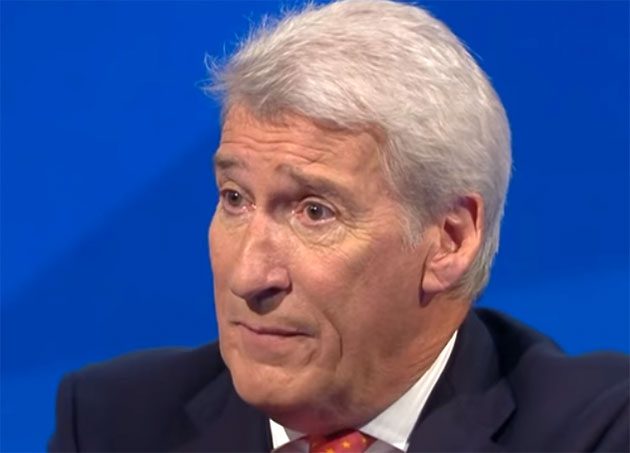 MY belief that Christianity was concocted to keep people in a perpetual state of alarm, despondency, loathing, fear – and especially fury – was strengthened  today when I read that popular TV presenter Jeremy Paxman, above, had recently angered Christians by using the religiously-neutral Common Era (CE) in his University Challenge programme. 
His failure to use the preferred Christian term AD (Anno Domini), said critics, suggested disrespect for Christianity
Twitter user William Norris said:
Our Christian heritage is being eradicated from our culture by the BBC and the likes of Paxman.
Expecting anything but disdain for superstitious clap-trap from the often-outspoken and formidable interviewer is an exercise in futility, given that he has already been censured by the BBC for saying that the Genesis myth is "religious hogwash" and that people with a literal belief in the Old Testament are "stupid" in a 2012 Newsnight interview with Professor Richard Dawkins.
The longstanding presenter ignited fresh anger when he used Common Era when describing the year when Armenia became the first nation to adopt Christianity as state religion.
Another brainless fussbudget tweeted:
This constant removal of all things Christian disgusts me, but it's the BBC!
And Simon Wilson tweeted:
I do wish Paxman would stop referring to the 'common era' and 'before common era'; it should be BC and AD.
The traditional terms BC (Before Christ) and Anno Domini – which means 'in the year of our Lord' in ancient Latin – have increasingly fallen out of use in areas of popular culture, while BCE (Before Common Era) and CE (Common Era), which do not hold religious connotations, have become more prominent.
I have been using BCE and CE for more than 20 years, especially to wind up the traditionalists.
On the Religion and Ethics Tool page of its website, the BBC says it favours the terms as a "religiously neutral alternative to BC/AD".
Figures including the former Archbishop of Canterbury Lord Carey of Clifton have previously defended the use of BC and AD.