THE owner of a print shop in Chicago may face an investigation by the Illinois Department of Human Rights for refusing to produce a brochure for the city's LGBT Community Fund.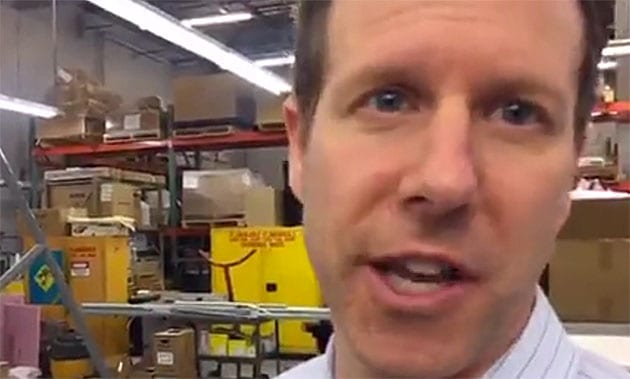 The proprietor of the Yorke Printe Shoppe, Brad Scull, above, explained his refusal in this report:
I'm a Christian, I believe in Scripture, and my faith is really important to me. I have nothing against any of those people. I have an issue when stuff gets into the promotion of the lifestyle.
Heaven forbid we should leap to the conclusion that Mr (Numb) Scull is homophobic. He claims to have has LGBT family, friends, and business acquaintances – and then, as these bigots always do, painted himself as the victim.
I don't think people really understand that I can love the people and maybe not agree with them But people don't do the same for me.
The community fund raises money to distribute as grants to LGBTQ charities. They have distributed over $1,000,000 in grants to date.
Adnaan Hamid, co-chair of the LGBT Community Fund, said:
You think in this day and age it doesn't happen, but it does.
The fund worked with Deborah Schneider of the marketing communications firm Kineo Group to produce the brochure. Schneider, in turn, went to Scull's shop, was given a quote, and she then sent the files over to be produced.
But when Scull saw the contents, he refused to do the job. However, he did find Schneider another establishment that would print the brochure for the same price and on time, but she says she will never work with the company again.
He made a decision as a businessman, and I made a decision as a businesswoman.
The fund plans to file a complaint with the Illinois Department of Human Rights over Scull's refusal to provide service.
Illinois law does not include a religious exemption to the state's non-discrimination law and sexual orientation is specifically included as a protected class. So Scull might soon be calling on the services of someone like Southern Baptist lawyer Matthew Staver. Staver heads the Liberty Counsel law firm that specialises in defending "persecuted" Christians like Kentucky clerk Kim Davis, who refused to issue marriage licences to same-sex couples.
Davis, by the way, could now be personally held liable for legal fees totalling almost $225,000.