GOOGLE the name Walter Schumm, a professor of applied family science at Kansas State University, and here are some of the words you will read about his research into same-sex parenting: 'dangerous', 'bogus', 'false', 'disgraceful' and 'shoddy'.
Yet on Monday Christian Concern, a virulently anti-gay outfit in the UK, gleefully tweeted:
This Tuesday will see the launch of Walter Schumm's Same-Sex Parenting Research. Schumm's extensive research lead him to question the widely-held view that same-sex parenting is equivalent to parenting by a heterosexual couple. Get a copy here.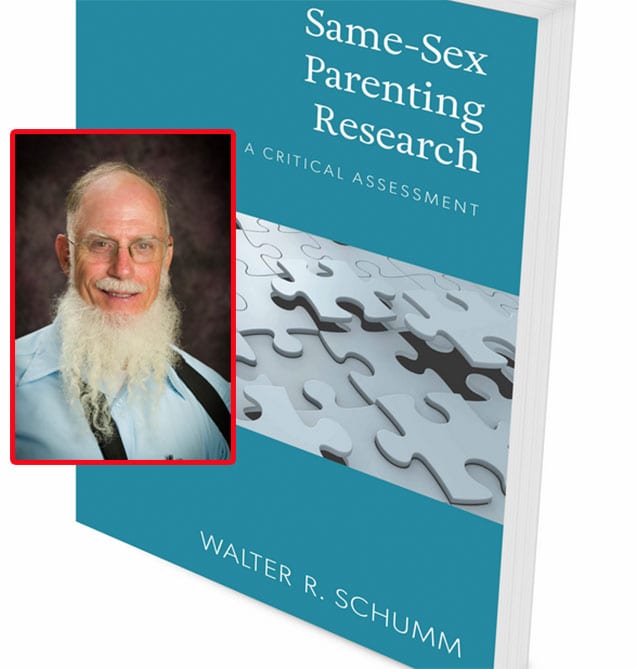 In 2012, the Southern Poverty Law Center, asked:
Is it really in the interest of free speech, academic discourse and scientific research to publish the work of a man who has been censured by four professional academic organizations for his distorted research about LGBT people? A man who has, over the past 30 years, denigrated LGBT people and made false claims about them that range from the dangerous (they're child molesters) to the ridiculous (gay men stick gerbils in their rectums)? We think not.
But a Premier report of yesterday's launch paints Schumm as a reputable expert, with Christian Concern saying his research:
Supports their view that parenting by heterosexual couples is better for a child's well-being than being raised by same-sex parents.
Schumm says his conclusions refute claims that children raised by gay couples are no different from those brought up by heterosexual couples.
More recent studies seem to be finding that the children [raised by same-sex couples] are less emotionally able to deal with stress. It was claimed in US courts that same-sex couples were more stable – or as stable – as heterosexual parents … However, most actual data suggested otherwise, that same-sex parents were less stable with children, unlike heterosexual couples who become more stable with children.
Wilberforce Publications, an arm of Christian Concern, said:
This new research dispels myths, given weight by political correctness, that SSP [same-sex parenting] is as good as – if not better than – heterosexual parenting. It is vitally important to society that more research is dedicated to SSP, and is critically important that the truth about what we know from scientific studies, alongside what we don't yet know, is made clear.

This research seeks to investigate and shine a light on the truth, refusing to simply conform to the politically correct line in academia.
In 2010, Wayne Besen, founder of Truth Wins Out, wrote of research published by Schumm:
In truth, Schumm is no brave hero who is pushing the envelope against the establishment. His biased new paper is a disgrace and so shoddy that the terms 'Schumm Study' and 'Sham Study' could be considered interchangeable.

The goal of Schumm's work is political. He is desperately trying to show that homosexuality is a choice that can be overcome. If he and others of his ilk can prove this, they believe that they can make a powerful case to fearful Americans that LGBT people should be kept away from children and that LGBT students should not receive support, because it might influence their sexual orientation.
Premier at least had the decency to balance its report by quoting Roehampton University chaplain Rev Shanon Ferguson, who said the children she co-parented for several years during a same-sex relationship have all done well.
Also in 2010 The Daily Kos posed this question:
Who is Walter Schumm? He was one of two 'expert' witnesses paid by the state of Florida to defend its ban on GLBT adoptions. (The other was George 'whatever lifts your luggage' Rekers). Schumm came off badly in doing so, and was cornered into admitting that 'Gay parents can be good foster parents', and 'The decision to permit homosexuals to adopt is best made by the judiciary on a case by case basis.'
In 2011, George Alan Rekers, a prominent anti-gay activist who co-founded the conservative Family Research Council, was exposed as gay after he was photographed with a male escourt, whom he claimed he'd only hired to "lift his luggage". Rekers was also heavily involved in the "pray away the gay" movement until his exposure.