For more than a century, there have been a number of unsuccessfully attempts in the US to make lynching a federal crime.
Well, success was at last attained last December when the Justice for Victims of Lynching Act was passed unanimously by the the Senate.
The Act outlines the specific act of lynching – a mob killing without legal authority – and would add lynching to the federal list of hate crimes.
This has gravely displeased lawyer Mat Staver, a nobody until he hit the big time with his involvement with the notorious Kim Davis case. That made him a media darling, and a hero in the eyes of conservative Christians. Ever since the posturing ninnyhammer has been poking his nose into a variety of issues involving LGBT rights with twisted facts and outright lies.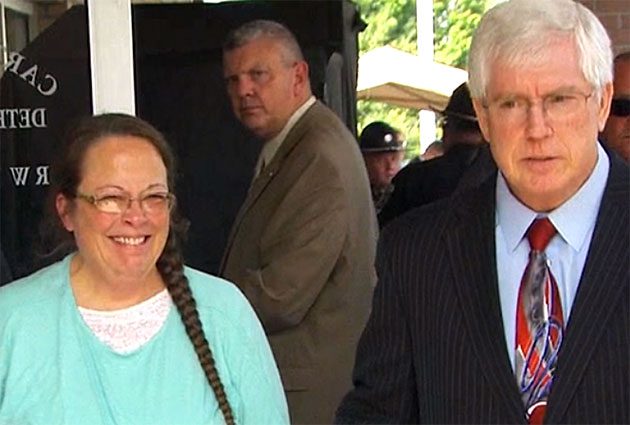 Example: His "shady" hate group Liberty Counsel tweeted a photo of rally in Peru at which 100,000 purportedly gathered in support of Davis. In truth it was an image from 2014 that had nothing whatsoever to do with the the crazy witch. Later Liberty Counsel said:
The photograph presented to Mat Staver was an honest mistake.
The reason he's so pissed off with the new act is that it includes protections for LGBT people as well as ethnic minorities. In addition to "race, colour, religion, and national origin",  the law also covers crimes against "gender, sexual orientation, gender identity, or disability" motivated by hatred.
This, says Staver, is the thin edge of a wedge that would give gays protections in other areas:
The old saying is once that camel gets the nose in the tent, you can't stop them from coming the rest of the way in. And this would be the first time that you would have in federal law mentioning gender identity and sexual orientation, as part of this anti-lynching bill.
Liberty Counsel has previously admitted helping state Republican lawmakers to draft anti-LGBT legislation, as well as attempting to push anti-LGBT laws around the world.
In designating Liberty Counsel as a hate group, the Southern Poverty Law Center points out:
With the expansion of equal rights for LGBT people, especially, the Liberty Counsel has come into their own, working to attempt to ensure that Christians can continue to engage in anti-LGBT discrimination in places of business under the guise of  'religious liberty'.

Through lawsuits and its annual Awakening conference in Orlando, the Counsel attempts to enforce the idea that Christian beliefs and law trump all other law.
Staver told fundamentalist Christian news outlet OneNewsNow that he is lobbying lawmakers in the House of Representatives to have the LGBT language removed from the law.