THE letters 'FTP' on car licence plates should be banned because they could be interpreted as meaning 'Fuck the Pope', according to Call it Out, an outfit that campaigns against anti-Catholicism and anti-Irish racism.
Attention was draw to the "offensive" letters when someone in Scotland used the Gumtree site to put up for sale an S6 FTP plate for £900.00.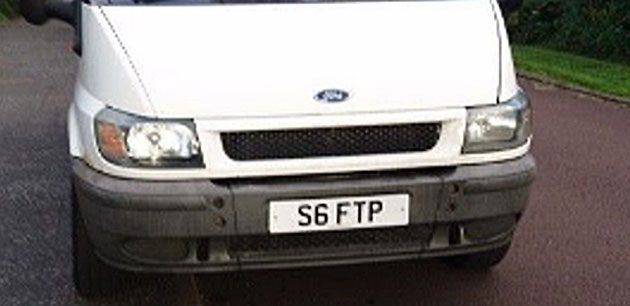 The vendor said it would be ideal for:
True blue nose, bears. Originally on supporters minibus.
"Fuck the Pope" is a phrase used often by some fans of Rangers Football Club, whose supporters go by the nicknames of "bears' and bluenoses."
Last year, former Rangers player Ian Durrant was criticised for shouting the phrase at a club dinner.
A spokesperson for the Driver & Vehicle Licensing Agency said plates that might "cause offence or embarrassment to the general population" are withheld as a matter of policy, but the DVLA could find nothing objectionable about the letters FTP.
The numbers in question were not deemed unsuitable for release.
Asked if the DVLA would look to restrict sales of FTP plates in future, the spokesperson said:
There are no plans to do so at this time.
This did not please Call it Out. A spokesman for the organisation said:
These three letters are a familiar term of abuse in Scotland. It is clear from the sale of a number plate bearing these three letters that both seller and buyer recognise the value they have for those who wish to showcase their intolerance in this fashion.

While there are far more pressing issues relating to anti-Catholic bigotry and anti-Irish racism, such examples of petty intolerance are nevertheless indicative of a wider problem in our society and reinforce the importance for everyone in Scotland of effectively tackling this issue.
The advert, placed online last month originally priced the personalised registration plate at £1,100.
A second advert for the same plate posted on January 2 read:
Private [registration]. Held on retention document. Valued at £1024 [but] will accept £900. I have plates for posting, money will be split 50/50 by our fishing club and Rangers Youth Academy.
Call it Out was launched last October
To provide an organised, coordinated voice for Scotland's Catholics and Irish community, in order to combat bigotry and prejudice against them.
Scotland's Daily Record yesterday reported that the plate had been removed from Gumtree.