THAT'S the message imparted this week by Stephen Corry, Director of Survival International following news that an American missionary had been detained by the Brazilian authorities for allegedly entering the territory of an uncontacted tribe.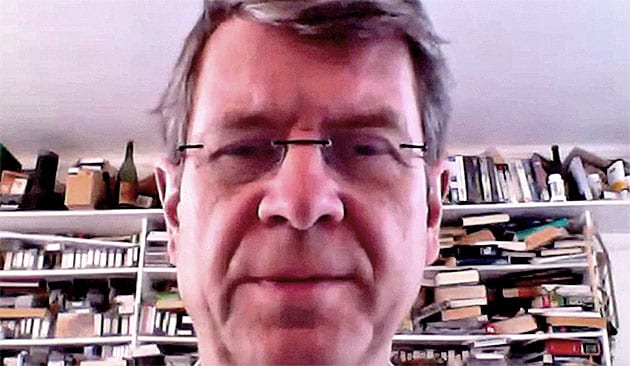 Corry, above, said:
Fundamentalist Christian American missionaries must be stopped from this primitive urge to contact previously uncontacted tribes. It may lead to the martyrdom they seek, but it always ends up killing tribespeople.
I'm sure the "martyrdom" he alluded to concerns the death of John Allen Chau, who was killed two months ago by members of the protected Sentinelese tribe after landing on their Indian Ocean island to convert them to Christianity.
Steve Campbell, a missionary with the Greene Baptist Church in Maine, was reportedly questioned by officials from FUNAI, the Brazilian government's Indigenous Affairs Department.
The church's website carries a photo and short bio of the Campbell family:

The "Jon" referred to is Jonathan Campbell, who – with his wife Rosa:
Are hard at work translating different books of the Bible for the Jamamadi Indians of Brazil.
Campbell is reported in the Brazilian press to have entered the territory of the Hi-Merima tribe, using a local guide who had participated in a recent FUNAI expedition.
FUNAI is the National Indian Foundation, a Brazilian government body that establishes and carries out policies relating to indigenous peoples. It is responsible for mapping out and protecting lands traditionally inhabited and used by these communities.
He reportedly visited tribal camps that FUNAI had located as part of their work to monitor the uncontacted tribe's territory.
Campbell has allegedly defended his actions by maintaining that he was teaching members of a neighbouring tribe, the Jamamadi, how to use GPS, and that entering the territory of the Hi-Merima Indians was the only way to reach his destination.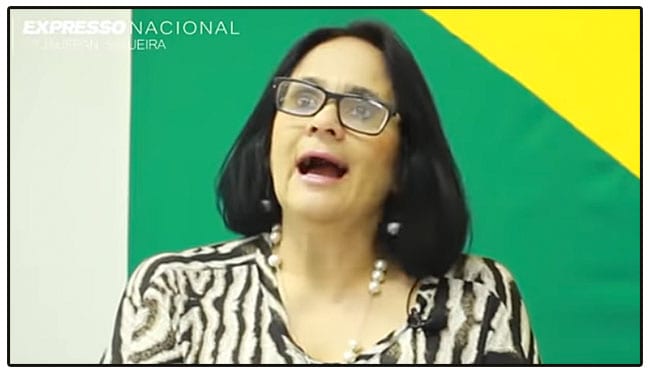 Survival International points out that Brazil's deranged Christian President, Jair Bolsonaro, had appointed an evangelical preacher, Damares Alves, above, as the new minister in charge of indigenous affairs, and she is the least likely person to interfere with missionaries, as she herself is one.
Last year the Guardian reported that Brazil's then President-elect vowed to abolish the country's human rights ministry and replace it with a newly-created ministry headed by Alves. The new ministry will oversee women, family and human rights – and also the country's 900,000 indigenous people.
The plan announced by the far-right Bolsonaro prompted outcry from feminist groups, indigenous activists and LGBT campaigners, who feared it indicates that human rights will be downgraded under the incoming government.
The homophobic Alves is a lawyer who co-founded a group that evangelises in indigenous communities, so she is likely to encourage other missionaries to attempt to contact uncontacted tribes.
Survival International says:
Uncontacted tribes are the most vulnerable peoples on the planet. Whole populations are being wiped out by violence from outsiders who steal their land and resources, and by diseases like the flu and measles to which they have no resistance.
Attacked by an evangelist called Campbell
As an aside, I was once hospitalised by an evangelist called Campbell. I was just 18, working at a small bank in South Africa, where Campbell was a senior executive. I was putting some papers in a low level file when he opened the vault door above my head. When he asked what I was doing, I  quickly got up off my knees, hit the back of my head on the open steel door, and – bleeding profusely – pitched forward on my face. I yelled "Jesus fucking Christ!"
Campbell, screaming "blasphemer", began kicking me, and continued to do so until other staff hauled him off. I was taken to hospital with three broken ribs, and the gash in my head required ten stitches.
And, to cap it all, when I returned to work I received an official warning from the manager, called Henderson, who – with Campbell standing by – berated me for "provoking" my assailant. "Mr Campbell is a man of God, and if you ever curse in his presence again you will be sacked," I was told.
My response? "Fuck you, and fuck Campbell" and I walked out, never to return.
I later learned that Campbell had resigned too – to become a missionary in in the Congo. News reports later said that he had vanished completely, and that his family was concerned for his safety. He was never found.