The Franciscan University of Steubenville in Ohio has issued a grovelling apology after it was revealed that a 'pornographic' book written by a French atheist had been given to students by English professor Stephen Lewis.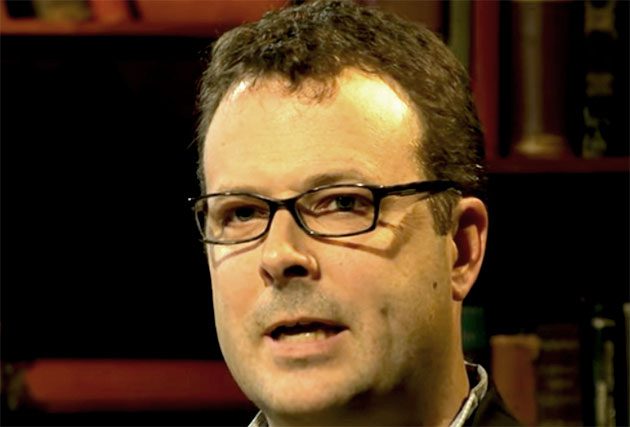 All hell broke loose when Lewis, above, assigned assigned The Kingdom by Emmanuel Carrère to an elective class of upperclassmen to "contrast how Catholics and non-Catholics approach faith in literature" and to prepare them for exchanges with secularists.
At first the university defended Lewis, but later when howls of outrage reached its ears, it hurriedly did a U-turn, and apologised.
Well-known FUS theologian and author Scott Hahn commented on Facebook that he was thankful for the apology issued by University President Father Sean Sheridan and was pleased that "first and foremost" it included an apology to Jesus and the Virgin Mary.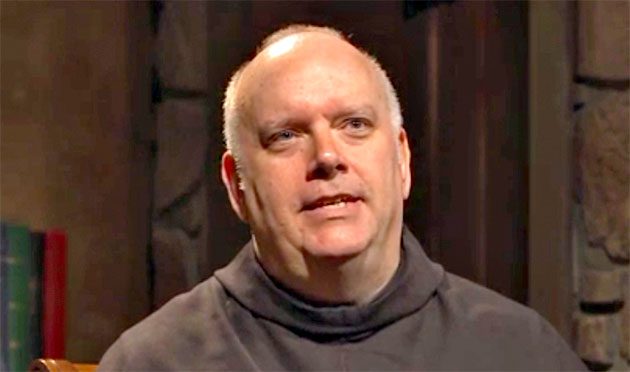 Sheridan, above, wrote in a letter that he was unaware that Lewis had assigned The Kingdom and assured outraged Catholics that book:
Is not currently and will never again be assigned.
In an earlier email to Church Militant, university spokesman Tom Sofio defended FUS by writing that it arms students with:
The knowledge and wisdom to confront the challenges of a coarse modern culture.
The Kingdom: a Novel has sold hundreds of thousands of copies in French, and has been heralded by secularists in the US and UK as a great work of literature.
In it Carrère seeks to explain his own life through pornographic images and fantasies set in the first one hundred years CE that involve even the Virgin Mary.
While defending Lewis, Sheridan said that the book is "so directly pornographic and blasphemous" that it should not be on a Catholic campus.
I have directed our chief academic officer to immediately review and revise our existing policy on academic freedom to prevent future use of scandalous materials.
Hahn said that as a "colleague and a friend" he would have advised Lewis against using Carrère's book.
It's one thing with violence, sexual themes, and that sort of thing, but when it applies to the Blessed Virgin then you have crossed at least one significant line if not others.
Having expressed satisfaction with Father Sheridan's apology, FUS theology professor John Bergsma wrote that the "vast majority" of his colleagues would find Carrere's book "abhorrent" and that Lewis "probably also considers it abhorrent."
In a Facebook post, Bergsma theorises that Lewis may have assigned the book as a:
Representative of some of the debased literature that has become fashionable in Europe.
However, Bergsma wrote:
I do not think it necessary to expose students to obscenity, pornography, and blasphemy.administration, to one degree or another."
Sheridan's letter of apology included:
Above all, I would like to apologize to Our Blessed Mother and Her Son, and to anyone who has been scandalized because of this incident. While I believe the professor's intention in using this book in his class was not malicious, the book is scandalous and extremely offensive …

A Catholic education should prepare students to stand for the truth of the Catholic faith and to do battle against the blasphemy and heresy rife in our culture today.

To do so, they must be equipped with a firm knowledge of Catholic Church teaching as well as a thorough understanding of the views and philosophies of their opponents. Professors must weigh the benefits and risks of exposing their students to the works of those who oppose the Church. They must walk the fine line between underpreparing their students for the might tasks ahead and overexposing them to material that may cause them spiritual harm.