US Vice President Mike Pence has been called the 'worst representation of what it means to be a Christian' by singer and actor Lady Gaga, a remark that's angered evangelist Franklin Graham.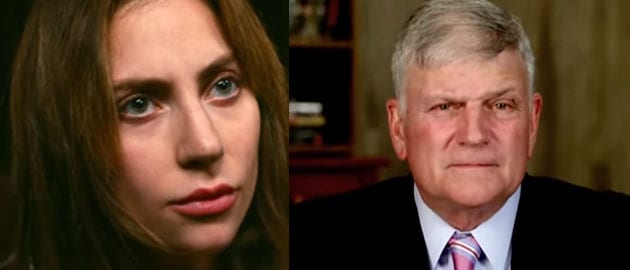 She ripped into the VP after news broke that Pence's wife Karen would be working for a private Christian school that requires its students and staff to believe that marriage is between one man and one woman, and bars gay teachers and students.
During one of her Las Vegas concerts, Lady Gaga attacked Pence, saying:
And to Mike Pence, who thinks it's acceptable that his wife work at a school that bans LGBTQ, you are wrong. You say we should not discriminate against Christianity; you are the worst representation of what it means to be a Christian.
She continued:
I am a Christian woman and what I do know about Christianity is that we bear no prejudice and everybody is welcome. So you can take all that disgrace Mr. Pence and you can look yourself in the mirror and you'll find it right there.
Franklin Graham quickly hit back, writing on Facebook:
Lady Gaga, Stefani Joanne Angelina Germanotta, may be a very talented singer and actress, but her comments about Vice President Mike Pence and Second Lady Karen Pence are misguided and unfortunate.

As Christians, following Christ means following the teachings of God's Word. The Bible makes it clear that homosexuality is a sin – among many others – and they all have a cost. We are to seek to live our lives in obedience to His Word. He set the rules, not us; He is the one who defined sin, and out of His love and mercy, He provided a remedy for sin – all sin – through repentance and faith in His Son, Jesus Christ.

I know Vice President Mike Pence and Mrs. Pence, and, to me, the way they conduct their lives and exhibit their faith make them the best kind of Christian. What a blessing they are to our nation.
For the record, Graham also admires Vladimir Putin's homophobia. According to this report, Putin's anti-gay legislation aligns with Graham's views, and, in 2014, Graham wrote:
In my opinion, Putin is right on these issues. Obviously, he may be wrong about many things, but he has taken a stand to protect his nation's children from the damaging effects of any gay and lesbian agenda.