Last week, in the immediate aftermath of the Washington DC confrontation between students from Covington High School and a group of native Americans, I posted a piece entitled 'Make America Hate Again: Catholic schoolboys abuse veteran' and cross-posted it to Facebook.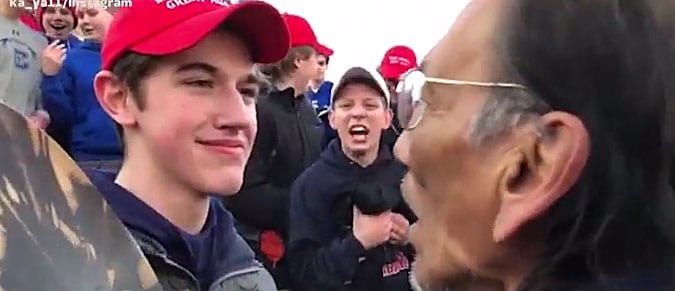 Reaction was as swift as it was vicious. I was accused of unfairly  maligning an innocent schoolboy – Nick Sandmann, pictured above smirking and apparently staring down Nathan Phillips, a Vietnam veteran who was attending an Indigenous Peoples March.
I was told that my piece was highly prejudicial "fake news"; that Phillips was a well-known troublemaker; that I'd gone off at half-cock by not bothering to investigate the incident properly, and that real villain in this incident was Phillips and his group.
In the wake of this backlash, I realised that there were many more strands to this narrative that I hadn't been aware of, and I decided to take the post down.
Well, it now appears that I was not entirely wrong in labeling the Covington posse of school students, many wearing MAGA caps, attending an anti-abortion Right to Life march, as bigots.
According to this, and a number of other reports, Covington, overseen by the Diocese of Covington in Kentucky, is:
Notorious for being a not-well-disciplined school.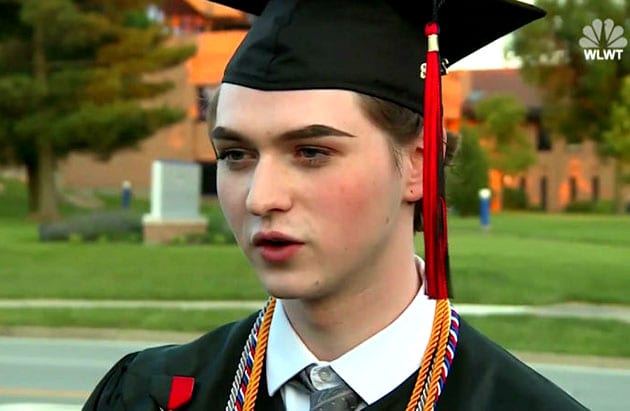 This was said by gay valedictorian, Christian Bales, above, who has stepped into the fray to remind folk that, last year, he and the student council president were prevented from giving their planned speeches at Holy Cross High School, one of the schools run by the Kentucky Covington Diocese.
When asked by NBC News for his reaction to the Washington incident, he said:
I was not surprised at all. It was only a matter of time that something this school community did would blow up to this degree, and I think they need to be held accountable.
Bales claims Covington Catholic is "notorious for being a not-well-disciplined school," and he described the Diocese of Covington as:
Archaic. They have the very last say in everything about students in the diocese.
Bales added that the diocese has still not provided him and the student council president with "thorough explanations" of why their speeches were canceled last year. At the time, a spokesperson for the Diocese of Covington said the students' speeches were not submitted on time and:
Were political and inconsistent with the teaching of the Catholic Church.
This  Bales denies.
Bales, and the student council president decided to give their speeches anyway. After the official ceremony, the pair grabbed a megaphone and spoke to a crowd of students and families on the school's lawn. Bales' speech, which was posted to social media, quickly went viral.
Bales said at the time that he was unsure whether his sexual orientation played a role in the Diocese of Covington's decision to not permit him to speak at graduation.
I honestly have no idea, because what I've been taught about the Catholic faith is that it's about love and tolerance and acceptance of all people.
Bales maintains that the students "were not blameless" – and his assertion is echoed by the American Indian Movement Chapters of Indiana and Kentucky, which said in a Facebook post that new video of the incident:
Does not absolve those boys of their behavior.
On Tuesday, the Covington diocese  said:
This is a very serious matter that has already permanently altered the lives of many people. It is important for us to gather the facts that will allow us to determine what corrective actions, if any, are appropriate.
Meanwhile Sandmann continues to protest his innocence and is unapologetic. Jack Mirkinson, reporting for SplinterNews, wrote that Sandmann, interviewed yesterday on Savannah Guthrie's Today show, was:
Stunned that anyone could think that this group of almost entirely white boys from a school known for its bigotry, many of whom were wearing MAGA hats, could be racist. ('We're a Catholic school, and it's not tolerated,' he said. 'They don't tolerate racism, and none of my classmates are racist people.')
Then she asked Sandmann if he felt he owed anyone an apology. His answer was no.
I can't say that I'm sorry for listening to him and standing there.
Mirkinson added:
Shorn of his MAGA hat, alone with Guthrie, Sandmann appeared younger and softer than he did in the initial video. That, of course, is the point: In America, young white men are allowed to feel the excitement of their own power, to dominate others, to offend and to attack, and then, when people try to hold them to account, to morph back into little boys, to present a picture of wide-eyed vulnerability, to tell us they were actually the ones who were afraid. Other young men do not have such luxuries.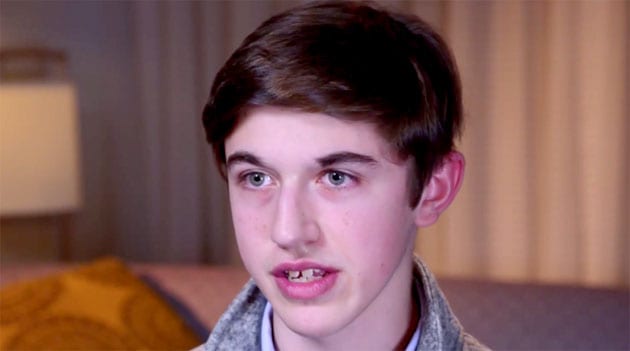 When the story first broke, The Friendly Atheist correctly observed:
[…] No matter how people want to spin the conflict caught on tape, there's no question that these MAGA hat-wearing kids from an all-boys Catholic school were in D.C. attending an event with a goal of controlling women's bodies against their will. Their religious education still has them thinking it's God's Will to force women to give birth (no matter what the women desire) and Donald Trump's racist, irrational, and thoughtless policies are somehow making our country better.
H/T BarrieJohn (Bales report)