THERE are no snakes in Ireland. They were allegedly told to scoot by St Patrick. But one was discovered last Thursday near the boardwalk on a beach in Youghal, Co Cork by a member of the Youghal Coast Guard.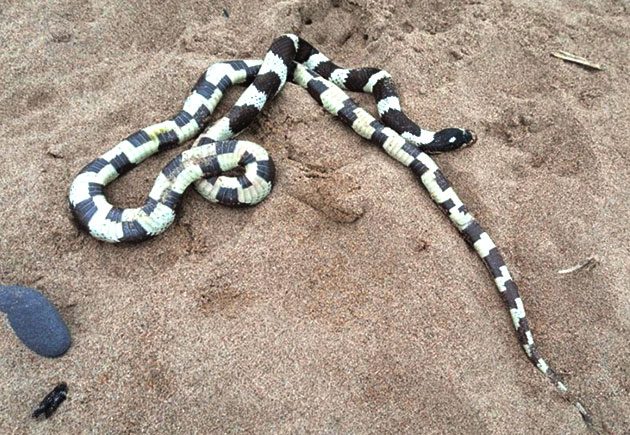 Some now see this as a result of the new Irish law on abortion which came into effect Ireland at the beginning of the year.
One who believes this balderdash is Catholic journalist K V Turley. Writing for LifeSiteNews he said that for centuries snakes represented:
The vile paganism that ruled the land before Patrick came and established Christianity.

The fact that a snake made its way ashore onto Irish soil once more is not, therefore, to be seen as just another zoological phenomenon. It may be read as also a symbolic one, coming at a time when Ireland is turning away from the light and naively embracing an ancient darkness.
This is just a warmup to Turley's mounting hysteria:
With the darkness now descending upon Ireland's Four Green Fields, a spiritual night is fast approaching. And, in its cold gloom, strange new gods are being worshipped once more, the bitter lessons of old, that the pagan gods were never gods but demons, long since forgotten.

So too has been forgotten the truth that the Church has been a home to the Irish nation – at times its only home, despite those within the flock who turned out be wolves in sheep clothing.

Through persecution and famine, through pain and suffering, exile and poverty, Holy Mother Church was the home where the Irish found refuge emotionally and spiritually, whether in the north country of Ulster, on the grey streets of New York, or the sparsely populated territories of Australia or Patagonia, She was a light to enlighten the darkness that had so often flooded the lives of the children of Erin at home and abroad.
Yadayadaya …
Turley adds:
Today, publicly at least, Ireland has abandoned the faith.
So, did Satan send Ireland a snake to signal his impending return to Ireland?
Did he heck! This blog has a far more rational explanation: that  the 1.5 metre serpent, quite possibly a California Kingsnake, which is often kept as a pet, was an escaped Christmas present.
Blogger Ann Robinson asked:
So what explains this unexpected visitor to the Irish seaside in the middle of winter? In the absence of any more information we can only mindlessly speculate, and thus we have two possible explanations. One is that the magic of Saint Patrick is finally wearing off and this striking-looking snake is likely the first of many arrivals and portends the end of days.

Alternatively and perhaps more plausible is that this was a Christmas present that managed to wriggle free of its new home located somewhere along the Cork coast.

Our sincere hope is that this snake wasn't abandoned and can be reunited with its owner who we also hope is right now frantically searching their home for their missing pet.
Turly, however, claims that the snake is dead. But:
Other 'serpents. are already ashore, however, and very much alive, and have all too easily found a home.
And he warns:
These Irish who jubilate over new abortion legislation refuse to learn the lessons of old. They shall learn them soon enough, however, especially as they come to experience what spirits have been invoked upon the land of Patrick. By then it will be too late. Even if, at that point, they have learned again that, away from the faith, outside the true home of all mankind, there is only endless night.
If the Catholic Church ran a purple prose competition, Turley would certainly be a candidate for the top prize.
Wikipedia says:
In literary criticism, purple prose is prose text that is so extravagant, ornate, or flowery as to break the flow and draw excessive attention to itself, Purple prose is characterized by the excessive use of adjectives, adverbs, and metaphors.
Turley's writing certainly has that in spades.
Last word to US cartoonist Bizarro who wrote of St Patrick:
As far as I know he is famous primarily for driving the snakes out of Ireland. (No idea how he did this since he died 1400 years before the invention of the automobile.)