THE ORANGE Order, a Protestant outfit which has been described as 'sectarian', 'triumphalist', 'supremacist' and 'homophobic' has been given a grant of £500 in in Scotland to fund a 'civic lunch' – and Catholics are furious.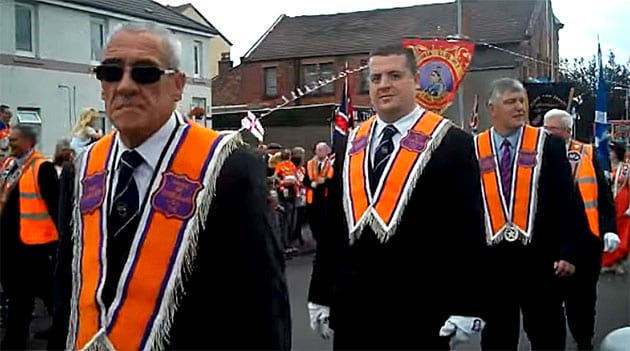 The decision by North Lanarkshire Counci to give taxpayers' money to this group of crazies was strongly opposed  by Scottish National Party councillor Steven Bonnar, who attends Mass at St Columba's Church in Viewpark.
While I will defend freedom of expression and therefore anyone's right to march including that of the Orange Order or indeed protest against those same marches, I generally take the view the organisation is best ignored in this day and age and in a modern Scotland.
He added:
However, to award council funds to them is a slap in the face for Catholics in North Lanarkshire.

The Provost cited precedent as a reason for giving the Orange Order funds because it happened in the past, but that needs to be challenged.

It was once 'precedent' that the Catholic religion was outlawed in this country but that was challenged and changed for the better. As an elected member I believe it is my duty to speak out and say these 'precedent' views are outdated.

It should not be acceptable to hand out taxpayers money to an organisation who [sic] is inherently anti-Catholic in belief.

They also claim to have 50,000 members across Scotland so I'm baffled as to why each of them couldn't ­contribute £1 and then have £50,000 to throw a party without touching public funds.

My colleague Councillor Anderson made the point that the Orange Order are a political entity in Scotland for their role in campaigning during the 2014 Independence referendum. That is a fact.

Therefore, public money shouldn't be given to organisations that actively campaign in elections.
Defending the decision, a North Lanarkshire council official said:
Through the year, the civic functions group receives requests from a wide range of local community organisations for support and civic recognition, and these are considered in line with criteria.
This organisation, like many others, meets this criteria. In this case, council funds will be used only to cover the cost of the civic lunch, not donated to the applicant.
Other councillors have criticised the payment being made at a time when the authority is facing cuts of about £31 million.
When they go a-marchin' the Orange people carry banners and flags depicting iconic scenes from Protestant and Orange history. Union flags are also a highly visible aspect of the marches.
The Orangemen are in favour of Northern Ireland's union with the UK, providing a major point of contention between the marchers and nationalists who want to see a united Ireland.
But for many Catholics, the marches are seen as contentious and sectarian, with traditional marching routes passing through or near Catholic and nationalist areas, and violent clashes have taken place in the past.
At the height of the troubles in Northern Ireland, the UK Government was forced to spend millions on security and draft in hundreds of extra troops to try and combat the tensions caused by inflammatory sectarian marches.
The basis of the modern Order is the promotion and propagation of "biblical Protestantism" and the principles of the Reformation. As such, the Order only accepts those who confess a belief in a Protestant religion. As well as Catholics, non-creedal and non-Trinitarian Christians are also banned. This includes members of The Mormons, Jehovah's Witnesses, Unitarians, Orthodox Christians, some branches of Quakers – and definitely homosexuals.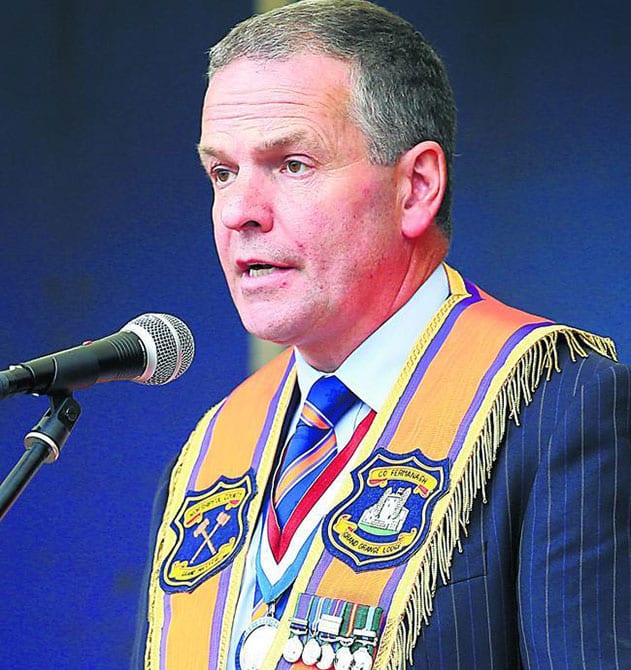 In 2015 The Orange Order backed Fermanagh County Grand Master Stuart Brooker, above, after he said gay people could not join the organisation because:
Homosexuality is wrong.
Brooker said any member that was gay would likely have to leave the organisation.
We're a Christian organisation and therefore we believe in what the Bible teaches.