SALAM Sarhan, a writer who has lived in London since 1991, this week came up with a radical proposal: that the world needs to make a concerted effort to prevent religion from interfering in politics.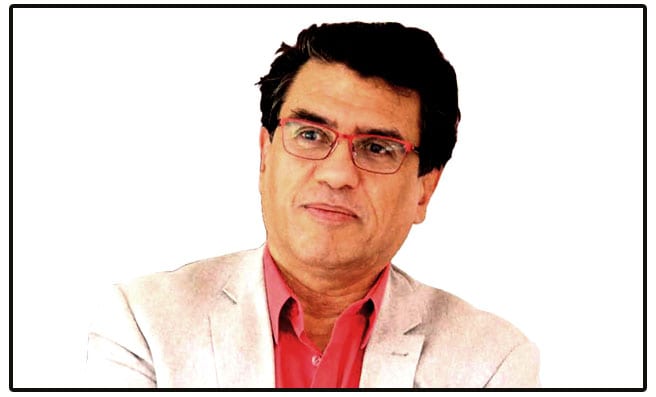 In a powerful call in the Independent for an international movement to curb religious meddling in secular affairs, Sarhan, above, began his op-ed by saying:
It is an understatement to say that the political use of religion has had a corrosive influence throughout human history. It continues to ignite and sustain the most intractable global conflicts. Unfortunately most of the worst abuses of religion in politics today are carried out in the name of Islam, but the political use of any religion has led – and will always lead – to the same results.

The theocratic revolution in Iran, which is centred on exporting sectarian ideology, was a turning point: it has ignited, over four decades, the rise of dark forces across Middle East and beyond. The situation has only got worse since the destabilising of Iraq by the American-led invasion in 2003 and the subsequent uprisings in many countries in the region in 2011, which opened a Pandora's box, as any anarchy always does.
He went on to say that the trend towards theocracy is taking hold in countries including but not limited to Turkey, Iraq, Lebanon, Syria, Afghanistan, Pakistan, Libya, Yemen and Nigeria. And it holds a significant influence over social groups and individuals across the world, including Western nations.
There is now a need to move towards an international consensus to prevent any invocation of religion – from mainstream as well as extremist religious groups – to support national and political agendas. It is time for a campaign to create an international treaty to ban the political use of religion.

The campaign can start by attracting the support of influential public figures to mobilise a global movement, leading later to the publication and dissemination of a formal treaty to exert pressure on states that perpetrate such abuses.
He is convinced that such a treaty would offer the international community, particularly the leading global powers, crucial guidelines on how to deal with such inflammatory conflicts and would also provide a starting point from which to refute any claim by terrorists that they are defending Islam, or indeed any other religion.
This would remove a key recruitment technique by which the naive and vulnerable are attracted to their ranks – namely, through the false allegation that there is a war being carried out against their faith.
He suggests that a movement designed to fend off religious interference could take the form of an NGO to push for governmental endorsements to a well-drafted "International Treaty to Ban the Political Use of Religion", along the lines of the Treaty on the Non-Proliferation of Nuclear Weapons.
Such a treaty would set out a clear framework for what constitutes the many and varied abuses of religion in politics, and would represent a step towards greater respect for human rights by liberating those who suffer from religious repression – which is, in itself, a major abuse of human rights.
He concluded:
Endorsement of the treaty by powerful countries would help to tip the balance in favour of more moderate, tolerant ideals. It would be a step towards bringing outlier states back to the majority world consensus, similar to events following the adoption of the Universal Declaration of Human Rights by the UN General Assembly in December 1948.

It could also lead to the establishment of a global monitoring service for raising awareness of the abuses of religion in politics, providing media organisations and other interested parties with credible, trustworthy statistics and facts about such abuses.

There are very few countries that would hesitate to endorse such a treaty – including those who can be implicated in such acts, but consistently deny using religion as a political tool.
Ironically, his piece was published just a day before the UK's House of Lords, yielding to religious pressure, yesterday dropped an amendment to the Civil Partnerships, Marriages and Deaths (Registration Etc) Bill which would have removed the exemption for clergy from officiating at same-sex marriages.
Tim Dieppe, of Christian Concern, which I wrote about yesterday, said:
If passed the amendment could compel Church of England clergy to carry out same-sex 'marriages' even though this is contrary to Church doctrine and would violate the consciences of many Clergy.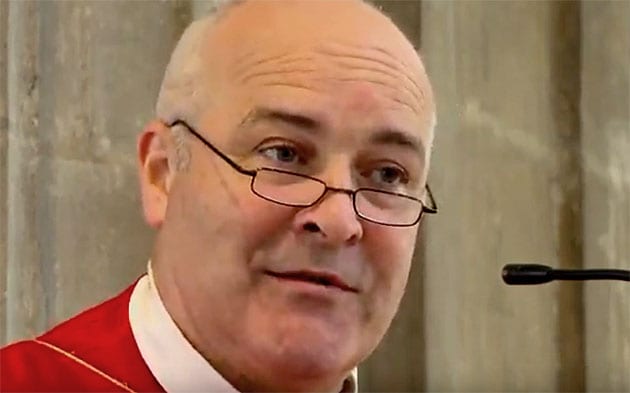 The Bishop of Chelmsford, above, represented the Church of England in the debate. He explained that:
The Marriage (Same Sex Couples) Act 2013 seeks to strike a balance between the right of individuals to marry a person of the same sex, and the rights of churches and other religious bodies – and of their ministers – to act in a way consistent with their religious beliefs.

Nobody is prevented from entering into marriage with a person of the same sex, but no religious body or minister of religion is compelled to solemnise such a marriage.