Nicholas Sandmann, 16, above, and his family have filed a lawsuit against The Washington Post. They are seeking $250 million in both compensatory and punitive damages.
The lawsuit claims that the Post:
Wrongfully targeted and bullied Nicholas because he was the white, Catholic student wearing a red 'Make America Great Again' souvenir cap on a school field trip to the January 18 March for Life in Washington, D.C.
It adds that the Post engaged in:
A modern-day form of McCarthyism.
And it goes on to say that the newspaper
Ignored basic journalist standards.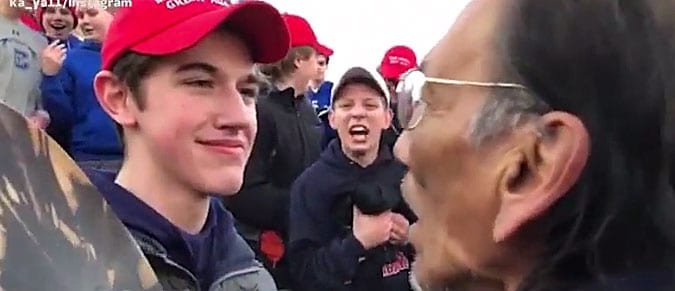 Sandmann, 16, is the Covington Catholic High School junior at the center of a controversy after his face was splashed across social media, along with Native American protester Nathan Phillips.
Attorneys Lin Wood and Todd McMurtry said it's their first lawsuit on behalf of Sandmann's family, and additional lawsuits will likely be filed.
Kristine Coratti Kelly, Vice President of Communications for the Post said:
We are reviewing a copy of the lawsuit and we plan to mount a vigorous defense.
Sandmann was one of a group of students bused to Washington to attend an annual March for Life trip which coincided with an Indigenous Peoples March.
Viral videos show students from the all-boys high school involved in an incident with  Native American elder Phillips during a trip to the nation's capital. The videos sparked a social media firestorm, with many calling out the young boys for their treatment of the elder.
But lengthier video was released in later days that appears to show a different story.
An independent, third-party investigation — commissioned by the Diocese of Covington — found the students made no offensive or racist statements toward Phillips or anyone who was with him that day.