CIRCUMCISIONS carried out for religious reasons on children who are unable to consent to the procedure ought logically to be outlawed in the UK, given a ruling yesterday (Tuesday) by the UK Court of Appeal.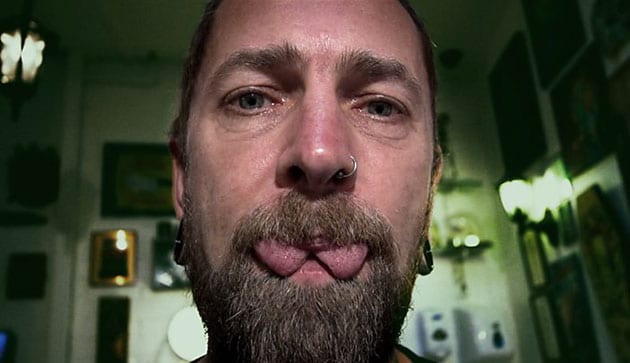 The ruling had nothing whatsoever to do with circumcision. It related to a case involving body modification artist Brendan McCarthy, 50, above, who calls himself "Dr Evil". The judges said that it was not in the public interest that a person could wound another without a good reason.
First off, I think the ruling is utterly absurd. What consenting adults choose do to their bodies is a purely personal matter, whether it involves tattooing, body-piercing, or in more extreme cases, having one's tongue split or an ear or nipple lopped off.
However, the ruling might prove a useful weapon in the hands of anti-circumcisionists.
While female genital mutilation is, quite rightly outlawed in the UK and other European countries, male circumcision is not. I hope the ruling is seized upon by opponents of circumcision carried out for non-medical reasons, and redouble their efforts for a complete ban of the practice.
In the light of the court ruling, McCarthy – famous throughout the body modification community – has now pleaded guilty to three counts of causing grievous bodily harm. A petition set up to support him has attracted almost 14,00o signatures.
Rhiannon Jones, from the Crown Prosecution Service, said she was not seeking to curtail freedom of expression to but protect the public.
The CPS investigation began after people who had seen pictures of Mr McCarthy removing the ear online raised the alarm.
She said:
This prosecution was not brought to curtail individual choice or freedom of self-expression but because Mr McCarthy, who was licensed to carry out tattooing and body piercing, was performing what were significant surgical procedures in a tattoo studio in Wolverhampton.

This case confirms the existing law that surgical procedures must be carried out by properly trained, qualified and regulated surgeons or health care professionals.
That's all very well, but, in the case of male circumcision, many practitioners are not qualified. AS far as I can ascertain, only in very rare instances where children have died – as in the case of four-month-old Goodluck Caubergs – or suffered horrendous injuries has the law reluctantly intervened.
However, legal proceedings arising out of botched male circumcisions are miniscule, and large numbers of infant boys go on to develop complications that are never dealt with by the law.
In 2017, the Health Department in New York reported that 24 cases of herpes had been linked to Jewish circumcisions since 2000. Two of the infants died and two others suffered brain damage. The infants had been subjected to the ancient practice of  metzitzah b'peh that requires a mohel, the person performing the circumcision, to suck blood from the incision on an infant's penis.
You'd think that the practice would be outlawed, but the only action taken by the Health Department was to issue leaflets pointing put the danger of this barbaric ritual.