THERE are many very rich people who claim that they owe their wealth to Jesus, and some go on to write 'motivational' books about the riches they believe were bestowed on them as a consequence of their faith.

The title that tickles me most is The #1 How To Get Rich Book For Christian Men & Women!: Money, Wealth, Entrepreneurship! written by "Investor, Entrepreneur, Fitness Expert, World Traveler & Business Owner" Christopher Mitchell. In it he claims to reveal "six biblical laws to get rich fast."
Although not in quite in the same mold, Climb Every Mountain: Finding God Faithful in the Journey of Life is a new book that credits God for the success of America's Chick-fil-A chain of restaurants. The only reason I have for mentioning it is because of the long-standing emnity that exists between the company and LGBT communities over its connections to right-wing, anti-gay Christian conservatives.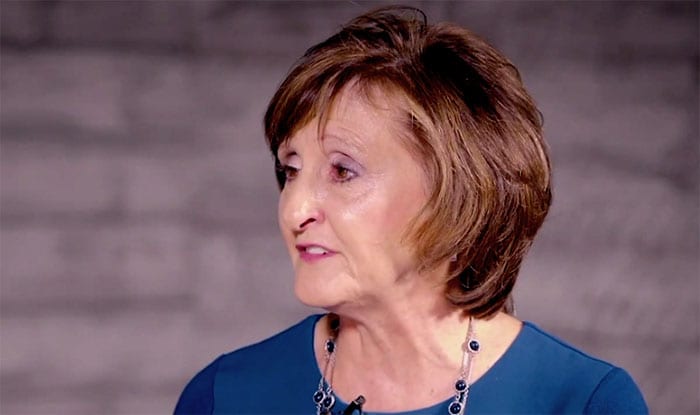 Climb Every Mountain has been written by Trudy Cathy White, above, daughter of Chick-fil-A's Baptist founder S Truett Cathy, who died aged 93 in 2014 leaving behind him a fortune of $4.2-billion – and reputation for being an intolerant old homophobe.
According to Hello Christian, White, a former missionary in Brazil, says that:
My dad built this business based on biblical principles. That's no secret. There's a lot of things that we are taught in God's Word and we've been able to put it into practice in our business. We're in business to glorify God by being a faithful steward of all that's been trusted to us and to have a positive influence on all who come in contact with Chick-fil-A.
Erm
…
like donating millions of dollars to political organsations seen by LGBT activists as hostile to LGBT rights
via its charitable arm, S Truett Cathy's WinShape Foundation?
Talking about "motivational" books I was rather amused to discover that Amazon is selling for $10.01 a Kindle edition of Donald Trump's Think Like a Champion: An Informal Education in Business and Life. The hardcover version is $5.95 – and many who bought it felt that they'd been severely shortchanged, as it's kinda tiny … but probably looks HUGE in the President's hands.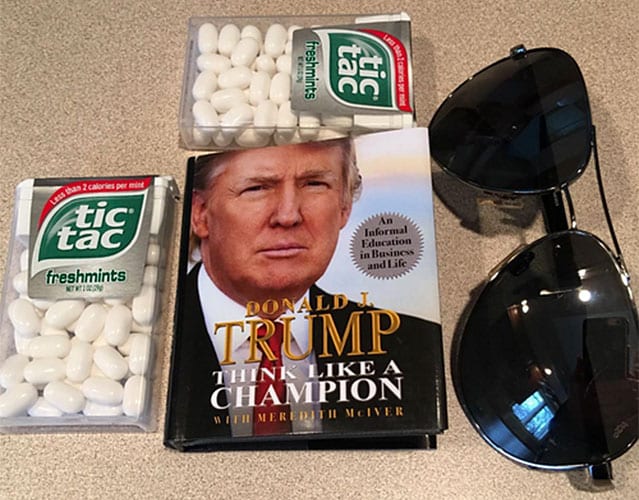 One disgruntled buyer, "Scribe Diva" posted the picture above on Amazon, along with the message:
I'd give this zero stars if possible. Had the known this 'book' is the size of a tic tac container, I wouldn't have bought it. I'm a fierce Trump supporter and I feel ripped off. There are about 190 bitty pages in this nugget. I'm so annoyed, I don't care what the book says. I'm embarrassed I bought it. So it actually starts on page 13, once you get past the table of contents and his introduction. About every other page is a new chapter which is introduced by being in color and containing a quote from someone else, like Stephen King or Mark Twain. Do the math and you will figure out that the actual book is really just a few pages of advice if it were normal size. Any revelations? No. Don't waste your money or time on this.
Another reviewer wrote:
How can you take seriously a man who has filed for bankruptcy 3 times costing millions of dollars to creditors and taxpayers alike and was so saddled with debt in the 90s he was put on an allowance? Motivational? Yes, if you are a sad case conservative who for some reason thinks it's better to beat the system than participate in it. The fact that a core group of Republicans support him show just how far down that party has gone.

As Trump walks away from failed business ventures only to find new creditors to default on, I'm not the least bit interested in his motivational techniques. I was appalled by how banal the messages were in this book. Only people who clearly won't get anywhere in business would find his 'informal' motivational techniques truly motivational.