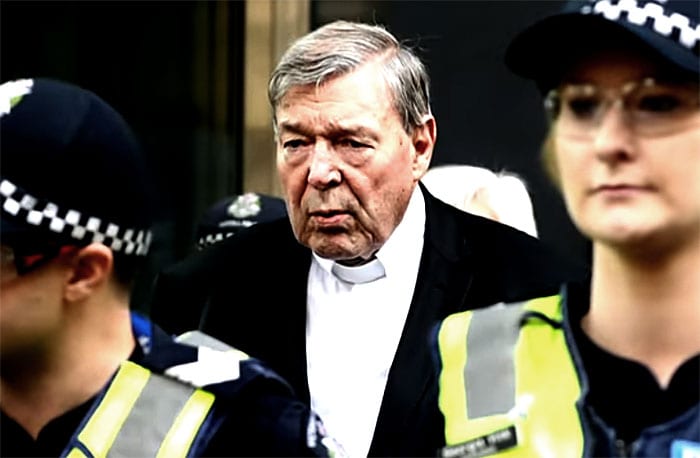 AN acquaintance of convicted sexual predator George Pell, above, has claimed that not only Pell but the Catholic Church itself – its hierarchy as well as lay Catholics – had been put on trial in Australia, and that the years of 'hatred' directed at the cardinal may have been sparked by angry homosexuals.

Furthermore, the former altar server at Melbourne's Roman Catholic cathedral – John Macaulay – alleged that trial was a travesty, and that Pell could not have committed the sexual abuse crimes he was found guilty of.
Appearing on EWTN's The World Over, hosted by Raymond Arroyo, Macaulay said that that both social media and mass media are scapegoating even lay Catholics for the crimes "of a small number of Melbourne clergy."
Macaulay told Arroyo that he was an altar server at St. Patrick's Cathedral in the late 1990s, and it was always Pell's practice to stand outside the cathedral after the 11 o'clock Mass and shake hands with worshippers. Macaulay also said he had found the testimony of the sole accuser "implausible" and that 20 crown witnesses had provided alibis for Pell.
Normally you would drop a case if you had a single alibi. Cardinal Pell had 20 alibis, all of (which) have been ignored by the jury, and the uncorroborated testimony of a single individual is the basis of a conviction. It's alarming.
Macaulay said he was distressed "as an Australian" by the jury's decision to convict Pell. As a Catholic, however, he had expected it to happen:
Given that Cardinal Pell has been a lightning rod for 20 years.
And he appeared to blame the gays for years of "hatred" directed at the cardinal.
The Melbourne man revealed that in 1996 a group of LGBT protesters came to St Patrick's Cathedral every Sunday for Mass dressed in rainbow sashes. Cardinal Pell explained to them that he couldn't give them communion ― not because they were homosexuals but because they were:
Making a protest at a very sacred moment.
Macaulay recalled:
It immediately hit the headlines. and from that moment Cardinal Pell was seen (as) an arch-conservative and an ogre (by) the press.

So this [jury conviction] is actually a decision 20 years in the making, and I don't think any Catholic should feign surprise in terms of the hatred that is out there for Cardinal Pell.

Where we should be shocked is [how] the legal system in [the Australian state of] Victoria is now able to find anyone guilty on the uncorroborated testimony of a single individual.
Given the "bias against the Catholic Church", Victoria, Macaulay believes that if Pell's conviction is overturned on appeal, the "wall-to-wall" press coverage of his trial will end abruptly and:
The mud will stick.
Pell has been sentenced to six years in prison, but Macaulay told Arroyo that this is still "a long time", especially for a man in precarious health, and that Pell may never walk free.
It's more likely that, any point in the coming months, Cardinal Pell could leave that prison in a pine casket. He's an elderly man, and this could, in fact, be the end of him.
Arroyo offered his own opinion of Pell's trial, conviction, and imprisonment clear.
I am frankly scandalized by, not only the way that this case was handled, but the solitary confinement the Cardinal finds himself in now.

I'm also told he cannot celebrate Mass. He cannot have access to altar wine, so he's even deprived of exercising his ministry behind bars, which seems a double penalty here.
Macaulay added that the Cardinal has been deprived of his breviary, that his solitary confinement is 23 hours a day, and that he is allowed only one visitor a week. Nevertheless, the Cardinal is in good spirits.
There's a reason why cardinals wear red. It would be an extraordinary outcome if in the end Cardinal Pell was seen … as a martyr.
Arroyo's interview of Macaulay has attracted "vile abuse" on Twitter by Australians who accuse Macaulay of not having been at Pell's trial and Arroyo of looking and sounding like "Pee-wee Herman."
Update: Bill Donohue, of the Catholic League, has echoed Macauley's "scapegoat" claim:
Cardinal Pell is the poster boy for Catholic-hating secularists, not only in his home country but around the world. They hate him for his orthodoxy and the fact that he was, until recently, the third most senior cleric in the Catholic Church. No matter, he will go down in history as the biggest scapegoat for clergy sexual abuse in the history of the Catholic Church.