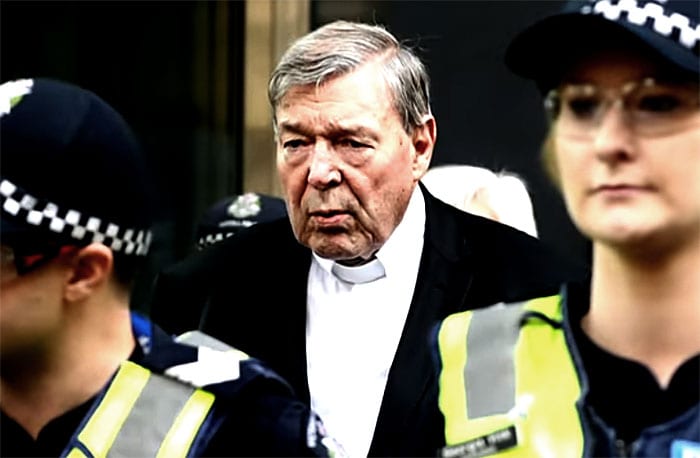 IN passing sentence on convicted child abuser George Pell, above, Chief Judge Peter Kidd today told the 77-year-old high-ranking Vatican official there was a possibility that he could die in jail.
I am conscious that the term of imprisonment, which I am about to impose upon you, carries with it a real, as distinct from theoretical, possibility that you may not live to be released from prison.
Pell was convicted in December of one charge of orally raping a 13-year-old choirboy and molesting another at the sacristy of St Patrick's Cathedral in Melbourne, Australia, after a 1996 Sunday mass.
He must spend a minimum of three years and eight months in prison.
The surviving victim of Pell's abuse gave a statement through his lawyer, Dr Vivian Waller, saying the sentence was overshadowed by the cardinal's impending appeal in June.
It is hard for me to allow myself to feel the gravity of this moment: the moment when the sentence is handed down, the moment when justice is done. It is hard for me, for the time being, to take comfort in this outcome.

I appreciate that the court has acknowledged what was inflicted upon me as a child. However, there is no rest for me.
Judge Kidd was scathing of Pell's offending as he explicitly laid out the facts of the case.
In my view, the first episode in the priest's sacristy involved a brazen and forceful sexual attack on the two victims. The acts were sexually graphic. Both victims were visibly and audibly distressed during this offending.
He added that Pell been "breathtakingly arrogant" in his offending.
After the sentence was handed down, Pell grabbed the railing and lowered himself into the dock.
He was surrounded by supporters and his legal team as he signed documents making him a registered sex offender for life.
One of the boys died of a heroin overdose in 2014, while the surviving victim is now in his 30s.
Pell is classified as an at-risk prisoner, in need of constant protection.
Other victims of child sexual abuse and their supporters gathered outside the Melbourne court from dawn.
Rhonda Janetzki from the Care Leavers of Australasia Network told 9News.
When you think that a child's life is destroyed from the moment the abuse occurs to the day that they die, George Pell got off really, really lightly. I would have liked to have seen him spend the rest of his natural life in jail reflecting on the crimes he has committed.
But one church member, named only as Kevin, said in an interview outside St Patrick's Cathedral that  he was not convinced by the guilty verdict and said the result did not shake his faith in the church.
Having come to this church, having attended Sunday mass here, having attended George Pell's masses, I find it very difficult to perceive. I'm a little disheartened, but Catholics are getting a bashing and it seems like it's a popular thing to do.
Another Catholic, Andrew, said he hoped Pell would never leave prison.
I've got three boys in Catholic schools, it makes me sick. I think the Catholic Church is shuffling it under the carpet and it makes me sick that I pay school fees to a Catholic system and then some of that money goes to the Catholic Church.
In his sentencing, Judge Kidd said Pell was not to be held responsible for other abuses within the church.
You are not to be made a scapegoat for any failings or perceived failings of the Catholic Church. Nor are you being sentenced for any failure to prevent or report child sexual abuse by other clergy in the Catholic Church.
H/T BarrieJohn