EARLIER this week we reported that Yosef Mizrachi, a demented rabbi who believes, among other things that children born blind had watched porn in another life, had been denied entry to the UK.

However another religious lunatic, crazier and more dangerous than Mizrachim if that's at all possible, has reportedly been allowed into the UK to lead a Polish Lent retreat this weekend.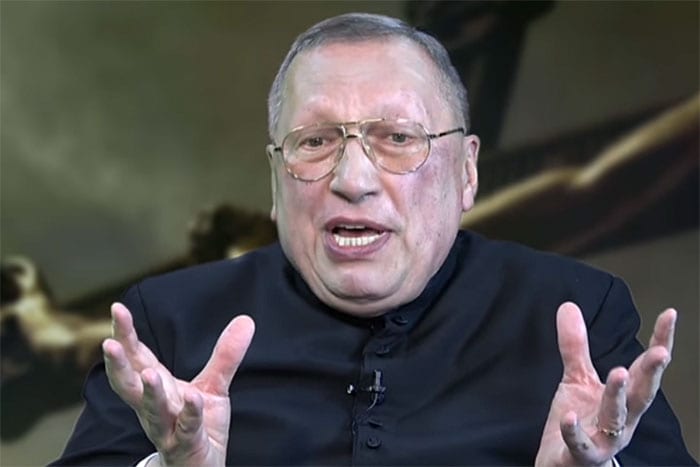 I give you Roman Kneblewski, above, an extremist Roman Catholic Polish priest known for his ultra-nationalist, anti-immigrant and anti-LGBT messages,
The Polish Catholic Parish in Finchley, London, announced on its website that this year its Lent Retreat – (17 to 20 March) – will be led by Kneblewski, a man who thinks fascism is A Good Thing.
He has repeatedly praised ONR ('Obóz Narodowo-Radykalny' or 'National-Radical Camp'), a Polish Fascist youth movement, and is on record as saying:
I wouldn't condemn fascism. If by fascism we mean Francoism for example, which saved Catholic Spain from communist criminals, then I'm all for it.
He also expressed full support for Jacek Międlar, an extremist former priest who is banned from entering the UK. Kneblewski stated that Międlar's anti-Semitic and hateful rhetoric is in fact a "language of love". He also called Międlar "a good Catholic and a good Pole".
In a sermon, Kneblewski repeatedly called refugees heading for Europe an "invasion of Islamists", adding that should they come to Poland, they would:
Slit throats, rape women and force children to become Muslims.
In the same sermon he stated:
Those invaders come here and they want benefits which they see as a tribute owed to them by us, infidel dogs.
He also said:
Whoever encourages to accept those invaders is a sinner.
On his Facebook page, he wrote:
The Qur'an should be burned! Burn it, nothing else!
He also approved of burying pig carcasses on mosque construction sites as a possible method of preventing mosques from being built.
Kneblewski is also known for his hostility to LGBT communities. In an online sermon he called homosexuality:
A heinous perversion.
Kneblewski also hosted a lecture by Paul Cameron, an American anti-LGBT pseudo-scientist, in his parish in Poland. The lecture was titled "The Myths of Homo-Propaganda".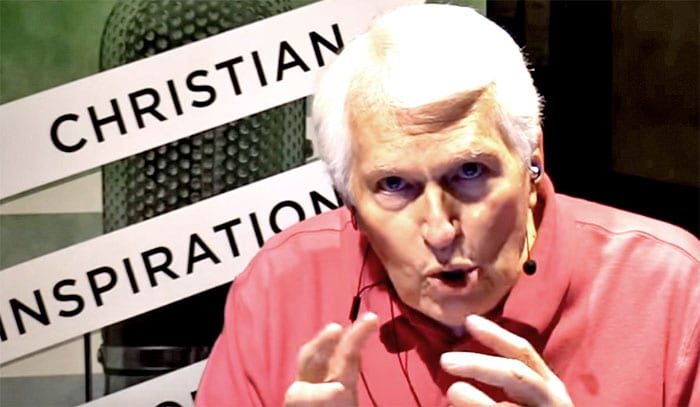 Meanwhile another lunatic, American hate preacher Bryan Fischer, above, said he understands the underlying objective of the massacre of dozens of Muslim worshippers in New Zealand this week – but doesn't actually support the actual killing of the 49 people who died.
I hate Islam. I hate Islam because it is a danger to everything that is important to me: My faith, my country, my liberty, Christianity, civil rights. Everything that you and I treasure is threatened by Islam.
Fischer said that ruthlessly murdering Muslims "is the wrong way to go about it", but added that the shooter was:
Correct only in that Islam is something that does need to be stopped.
Fischer declared that those responsible for the attack should be tried and publicly executed, but noted that "vigilante justice" like this is almost inevitable because governments are not taking adequate steps to eliminate the threat posed by Islam.
One of the things that happens to guys like this is, if they've got some loose wiring to begin with and they see that their government is not doing what is necessary to protect them – whether it is from illegal aliens, whether it is from jihadis, whether it's from vengeful Muslims – if they see that their government is not doing their jobs to promote justice, to carry out justice, to protect national security, then they're going to start thinking, 'Well, I can't count on the government to do it, so I'm going to have to take things into my own hands.'

That's where you get vigilante justice … and, unfortunately, I think we saw a case of that in New Zealand.