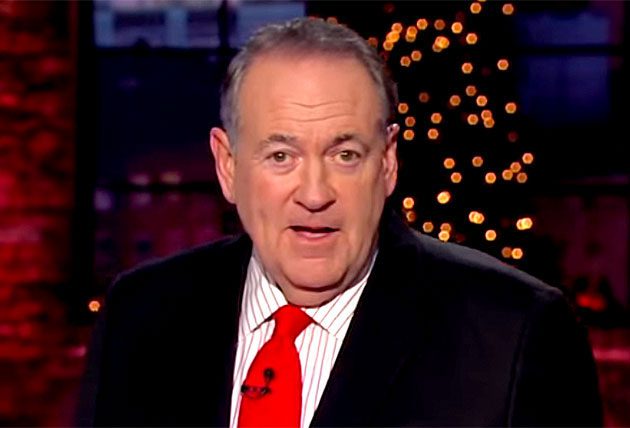 A COUPLE of days ago the Friendly Atheist reported that former Republican presidential candidate Mike Huckabee, above, went into melt-down over the fact that the San Antonio City Council voted last week to exclude Christian-operated Chick-fil-A from a list of proposed food outlets for San Antonio International Airport.
Huckabee said on the Todd Starnes Radio Show:
I wish that Chick-fil-A would sue the city of San Antonio It's a restraint of trade. It's really denying them the ability to do business.
We now learn that Texas' Attorney General Ken Paxton has entered the fray, and is pushing for both state and federal investigations into the matter.
Paxton sent letters dated March 28 to Mayor Ron Nirenberg and the city council notifying them that he has:
Directed my office to open an investigation into whether the City's action violates state law.
He has also written to US Transportation Secretary Elaine Chao requesting that her department investigate whether the decision:
Violates various federal statutes and regulations to which the City is subject as a recipient of Department of Transportation grant funds.

There is no evidence indicating that Chick-fil-A has ever maintained any policy or practice of discriminating against any group of people, and the City offered no such evidence as the basis of its action. Indeed, shortly after the City's decision was announced, a member of the City Council who dissented from the City's decision openly apologized to the Chairman of Chick-fil-A, noting that the restaurant 'employs and serves everyone, without prejudice, discrimination or hate.'

Furthermore, Chick-Fil-A apparently agreed in the present instance to abide by all applicable nondiscrimination rules imposed by the contract with the City.
The "Jesus Chicken" chain as some call it, was one of several vendors the company Paradies Lagardère proposed adding to the airport's Terminal A, but its inclusion was voted down 6-4 last week. Councilman Roberto Treviño accused the company of a "legacy of anti-LGBTQ behaviour" and claimed that its mere presence would harm travelers' ability:
To feel welcome when they walk through our airport.
For years, liberals have advocated boycotting the Christian-owned chain due to CEO Dan Cathy's stated opposition to same-sex marriage and the company's past donations to hate groups such as Family Research Council and Focus on the Family. Most recently, activists have objected to recently released tax filings showing that the company donated more than $1.8 million in 2017 to the Fellowship of Christian Athletes, Paul Anderson Youth Home, and the Salvation Army, all of which have been attacked as anti-LGBT for taking traditional biblical stances on homosexuality.
Texas Republican Senator Ted Cruz criticised the City Council's decision as "ridiculous" and inconsistent with the Lone Star State's values.
One council member, Manny Pelaez, who voted to exclude the outlet, is having second thoughts.
Before the vote, I originally was thinking of ways to get more San Antonio-based restaurants in the airport. We were looking for local restaurants because we have a lot as a city to offer here. The second reason I was thinking to replace Chick-fil-A was because they close on Sundays and I wanted a business that stayed open during that time. Number three, the news broke out about where some were upset about their charitable giving.

Then I made comments about Chick-fil-A and what I had been told about their practices, which were perceived as hostile toward the LGBTQ community. I said things that were not accurate. Turns out, Chick-fil-A actually does protect its employees from harassment and discrimination at the workplace. They got policies and enforce those policies. Their charitable giving is innocuous.
Pelaez added that he recently went so far as to meet with 40 religious leaders to apologise.
The Texas-based First Liberty Institute has also called for a religious discrimination investigation into the matter, and Republican Texas representative Chip Roy said it would be:
Unfortunate if the council's decision negatively impacted our ability to effectively advocate for San Antonio in Congress due to such rampant discriminatory action against a well regarded business with such a significant presence in our communities in central Texas and across the nation.