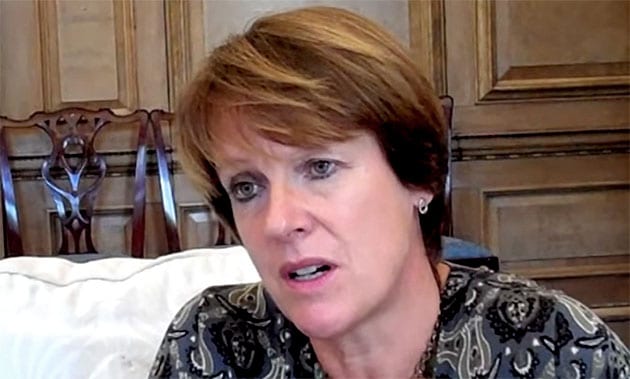 FOR the life of me I cannot understand what Christian Member of Parliament Dame Caroline Spelman, above, meant when she was reported today as saying 'I have to believe that God is in control, because it [Brexit] is a very chaotic situation and it's distressing.'
That quote appears in a report that Christian MPs from across the political divide have been defending a potential delay to the Brexit process.
Spelman added:
This doesn't feel like a very normal situation, and it isn't. So when you're in a crisis, you just have to pray that God is sovereign and he has his hand on this, though I can't see the outworking of this. My prayer is that the right outcome will be arrived at.
Earlier this month Minister Theresa May, vicar's daughter and a member of the Crutch Church of England said she was pressing on with her now twice-rejected Brexit deal because of her faith in God.
Tonight, according to the
BBC
, MPs voted by 412 to 202 for Prime Minister Theresa May to ask the EU for a delay to Brexit. It means the UK may not now leave on 29 March as previously planned.
May says Brexit could be delayed by three months, to 30 June, if MPs back her withdrawal deal in a vote next week.
If they reject her deal again then she says she will seek a longer extension – but any delay has to be agreed by the 27 other EU member states.
Meanwhile the Great Trumpkin, who boosts the value of Bibles by autographing the things, said he was surprised at how badly the negotiations have gone, adding that the British Prime Minister did not listen to his suggestions on how to negotiate.
He didn't elaborate on what advice he gave May, but it most likely involved building a bloody great wall between the UK and the rest of the world.