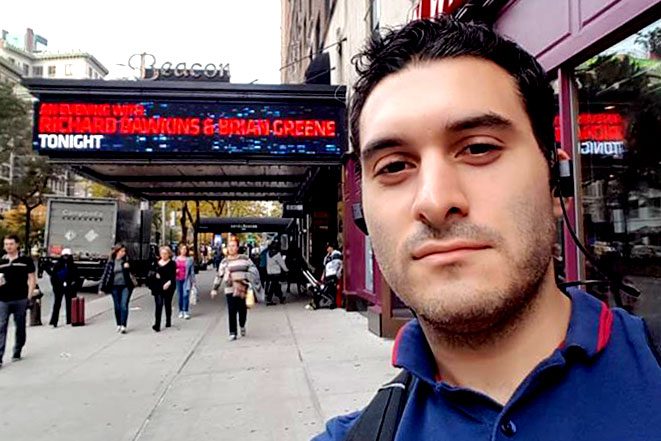 On March 1 we reported that Oxford University's student newspaper, Cherwell, published an interview with Armin Navabi, above, founder of Atheist Republic – but refused to allow the interview to be reproduced online because it might be regarded as 'offensive'. This led to the immediate resignation of the paper's profile editor, Freddy Howard.
This week Navabi became embroiled in another controversy over free speech when Mount Royal University in Calgary suddenly cancelled a talk he was scheduled to give on Thursday because the timing was considered inappropriate in the light of the mosque shootings in New Zealand.
MRU said in a statement:
Universities are diverse and inclusive places where people should always feel respected and where there is free exchange of ideas. The tragic event that occurred in Christchurch less than a week ago has had a large impact on many members in our community. We made this decision in light of that impact and we would absolutely have the speaker come to our campus at another time.
Navabi, who lives in British Columbia, was being brought to MRU by the Atheist Society of Calgary to share his journey and discuss the reasons he doesn't believe the Islamic faith can be reformed.
He reacted by asking:
What do they want? Do you want to have less conversation? Isn't less conversation exactly what leads to people having extreme radical positions?

I mean the less words exchanged between us, the more fists and bullets are going to exchange between people. Having more conversations is exactly what you need in the face of some tragedy like this.
The Atheist Society of Calgary said it was hoping to provide a safe space for open communication and a chance for people to learn more about atheists, from Navabi's perspective.
The group said it was also an opportunity to let some people, such as ex-Muslims and other non-believers, know they are not alone.
Navabi says he always struggled with the Islamic faith growing up, even attempting suicide at age 12, as a way to try to escape his fears. Eventually he left Islam, became an atheist, and began sharing his journey with others through his podcast, a book, and talks across the globe.
He says his goal is not to convert people, but to show them that people can disagree and still get along.
Hat tip: Robert Stovold