THE World Congress of Families, a coalition of far-right politicians, conservative activists and religious leaders, was staged this weekend Verona, Italy, turning the 'city of love' into a centre of hatred directed at Muslims, feminists and LGBTQ communities.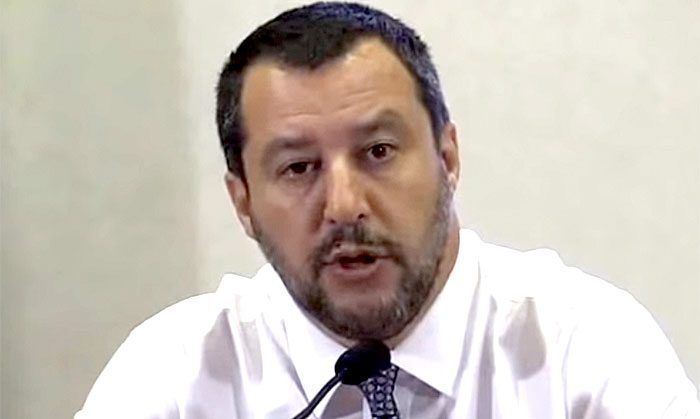 The congress's 13th meeting was endorsed by the regional authority and Italy's deputy Prime Minister, Matteo Salvini, above, leader of the anti-immigrant and xenophobic League party who addressed several hundred attendees with a speech that spanned topics from population decline to illegal immigration and a critique of feminism. According to this CNN report, he said:
The feminists that speak of women's rights and are the first to pretend to not see what is the first, only and major, real danger in 2019 for rights, social achievements, freedom to work, study, speak, study, dress as you like – and it's not the World Family Congress – it's Islamic extremism, a culture where the woman's value is less than zero.

The woman gets covered with a burka, the woman doesn't have to leave the house, the woman shouldn't wear a mini-skirt, and if she dresses too western, thinks too western or becomes too Western, (they) beat her up.
As he spoke, some 30,000 protesters flooded the city's cobblestone streets and winding roads in protest against the the congress's presence in their city.
Over the past few years, the WCF, whose mission is to "defend the natural family", was held in former Soviet states.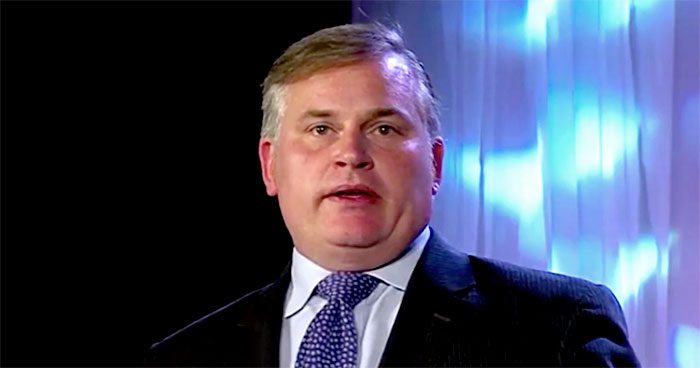 Among the speakers was the WCF's President, US-based Brian Brown, above, founder of the National Organisation for Marriage, and Lorenzo Fontana, Italy's Minister for Family and Disability, who has said that same-sex marriage, gender fluidity, and mass immigration were helping to :
Wipe out our community and our traditions.
Also in attendance was the Russian Orthodox Archpriest Dmitri Smirnov, who has said that Muslims will prevail over Christians:
Because they don't want to live in a state ruled by homosexuals.
Much of the narrative throughout the weekend focused on the "beauty" of the "natural family," defined by the group as one that exists as a heterosexual marriage bearing children.
Brown said in the conference's opening address:
This universal truth of the beauty of the family is what binds us together. We are here today to defend, promote, protect and lift up something so basic, true and beautiful – the family – a man, a woman, a child.
Others made more political overtures under the "pro-family" umbrella.
WCF critics say that the pro-family movement's language is just a front for divisive, harmful rhetoric that's making gains in European institutions.
Neil Datta, Secretary of the European Parliamentary Forum on Population and Development, said:
They frame it as being in favor of family and life and religious freedom, but really what they mean is simply different ways of restricting peoples human rights. Instead of talking about religious values, they've taken the same idea but have put it through a secularizing washing machine so it comes out sounding like modern human rights language. But it's the same basic idea.
The WCF has become a breeding ground for more ambitious changes to human rights protection laws, he explained, noting that themes discussed at past forums have led to attempts by WCF supporters to advance their agenda inside the EU and the UN. They usually don't make it that far, however, instead allying themselves with countries already entrenched in a pro-family political agenda, such as Hungary, Poland and Russia.
After a 2013 WCF meeting in Australia, Spain, Macedonia and Poland saw successive waves of attempts to restrict abortion rights, followed by different attempts to restrict LGBTQ rights, demonstrated through the constitutional referendums on the definition of marriage (as between a man as a woman) in Croatia, later followed by Romania. During the most recent congress in Moldova in 2018, conversations focused on supporting homeschooling and gender ideology.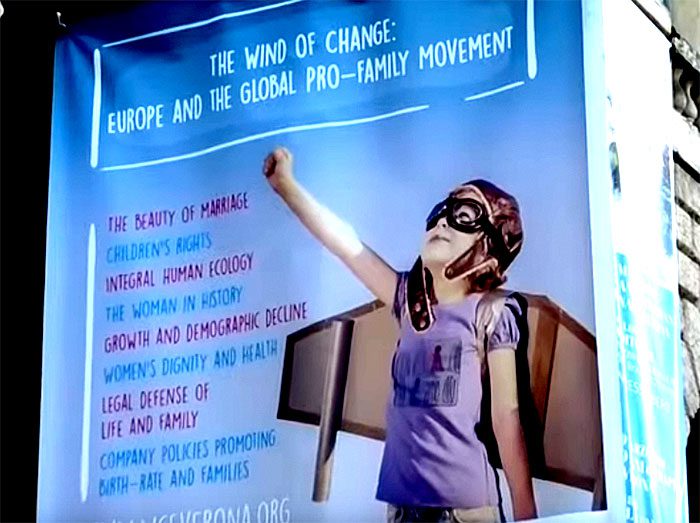 This year's theme, "The Wind of Change: Europe and the Global Pro-Family Movement" spells out those ambitions to make legal changes inside national and global institutions. Experts say it's an indication that the pro-family community is strategizing on how it can influence legislation inside the EU after the European parliamentary elections that take place between May 23 and 26.
Ilaria Ruzza, President of SAT Pink, a transgender group associated with the LGBTQ group, Circollo Pink, told CNN that Verona has "always been the lab of the far right," and that LGBTQ rights have deteriorated in recent years.
The hate was already here. You could smell it, you could feel it. Now you can see and feel it… now they have an authorization.
Ruzza added that the city's decision to hold the WCF conference – a platform she says gives "ignorant people the right to speak" – is particularly egregious for the taxpayer, as it was organized in one of the greatest palaces in the city, at no rental cost for the organizer. The Mayor's office confirmed to CNN the venue was "donated" at no cost.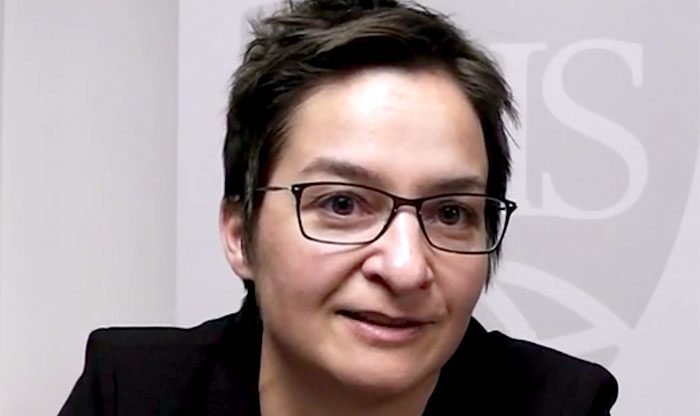 Kristina Stoeckl, above, Professor at University of Innsbruck in Austria, has mapped the growth of the WCF. She says it's clear that politicians are using family themes to drive their own agendas.
Europe's nationalist and far-right political parties have seen a widespread resurgence on family-driven platforms, with Italy, under Salvini's far-right League party, finding fertile ground with those initiatives.
In last year's Italian parliamentary election, the League boosted their seats from 22 to 128. Now, it governs Europe's fourth largest economy in a coalition with the anti-establishment Five Star Movement party.
Once seen as a fringe party, Salvini's league now enjoys the support of one in three Italians. Part of Salvini's success is attributed to the way he's co-opted the family values rhetoric, which some experts say gives him a softer appearance that appeals to a certain part of the electorate who might find his hardline position on other issues unacceptable.
Stöckl said:
The populist right wasn't interested in family to start with; they have discovered it because it's an opportune topic, and they're using it What Salvini – and not only Salvini, but also others – have been skillful in doing is that they basically say 'the EU is imposing legislation on us that we don't like, through things like the anti-discrimination directive or the European Courts of Human Rights that protects minorities.
Hat tip: BarrieJohn