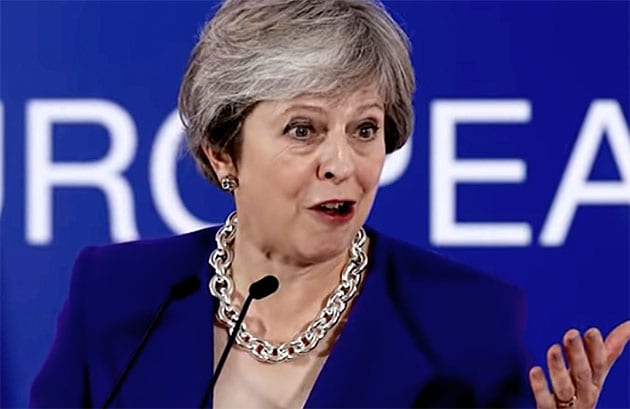 The Bank of England announced that voting to leave the European Union has cost Britain more than £440 million a week in lost growth since the referendum.
That's £727 per second, but the UK's utterly inept Prime Minister Theresa May said today that her decision to press on with this catastrophic cock-up comes from her faith in God.
Faith in an imaginary deity has convinced this delusional woman that she is:
Doing the right thing.
In a rare interview she said:
I am a practising member of the Church of England and so forth, that lies behind what I do. It's not like I've decided to do what I'm going to do and I'm stubborn. I'll think it through, have a gut instinct, look at the evidence, work through the arguments, because you have to think through the unintended consequences.
May, in what must be the understatement of the century, said that there were "really complex issues" at play in the process of leaving the EU. This meant that:
In this job you don't get much sleep. It is a moment of change. It is a hugely challenging time. And we need to get on with the deal in terms of Brexit. And I'm very conscious of that.
The beleaguered PM, who's unlikely to cling to her post for much longer, spoke about growing up as the only child of a clergyman. Her father, Hubert Brasier, was the vicar of an Oxfordshire village.
She spoke of being brought up in a vicarage:
What came out of my upbringing was a sense of service.
And a complete inability to recognise that Brexit is, in reality, a death wish expressed by those who voted to abandon the European Union.