THE Iranian authorities have a pretty twisted view of what constitutes justice. But under sharia law it seems anything inhumane seems possible, even the imposition of 38 years in prison and 148 lashes on a woman who committed no crime other than to campaign against the  Islamic country's draconian veil laws.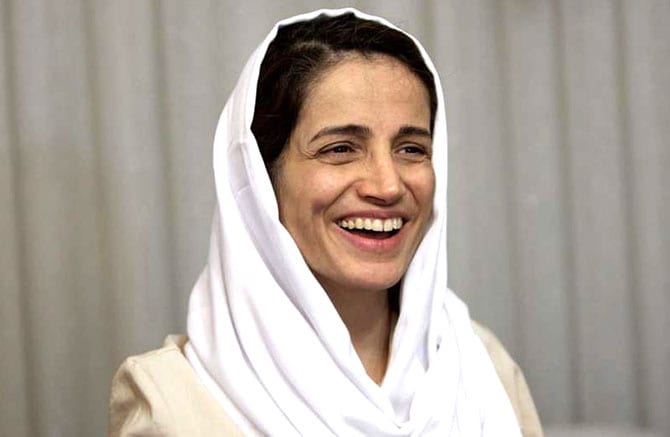 The sentence imposed on Nasrin Sotoudeh, above, was met with international condemnation, and it's now reported that a  group of Iranian lawyers has joined the criticism.
In an open letter to the Iranian people, and sent by one of the authors to VOA Persia for publication, the group of 16 jurists insists that the sentence violates the commitments enshrined in the Constitution of the Islamic Republic on the subject of human rights and due process.
In the letter, posted online by the Iranian Human Rights Activist News Agency, the signatories claim that the sentence is "a source of shame" and "shows a lack of tolerance in dealing with" lawyers "critical of the system". Furthermore, it is "a sign of weakness in the judiciary".
The lawyers added:
We praise Sotoudeh's integrity, passion and independence in fighting for justice and human rights, and call for her unjust sentence to be overturned.
On March 11, judge Mohammad Moghiseh spoke of a sentence of seven years in prison: five years for "crimes against national security" and two additional years for "insults" to the supreme leader, the great ayatollah Ali Khamenei.
However, there are conflicting versions of the sentence with her family claiming that she was jailed for 38 years and is due to receive 148 lashes.
At the time of her arrest last year, the Iranian authorities had informed the leader of the fight against the mandatory veil  that she had received a sentence in absentia of five years in prison for espionage.
Sotoudeh is one of seven lawyers and human rights activists arrested in Iran last year. Before her detention, last June she defended a group of women imprisoned for appearing in public without the veil, a legacy norm of the 1979 Islamic revolution and punishable by prison under the penal code.
The Guardian reports that she was jailed in 2010 for spreading propaganda and conspiring to harm state security – charges she denied – and was released after serving half of her six-year term. The European parliament awarded her the Sakharov human rights prize.
News of the latest sentence came days after Iran appointed a new hardline head of the judiciary, Ebrahim Raisi, who is a protege of Ali Khamenei. The appointment is seen as weakening the political influence of the Iranian president, Hassan Rouhani, a relative moderate.
The UN investigator on human rights in Iran, Javaid Rehman, raised Sotoudeh's case at the UN human rights council in Geneva on Monday, saying:
Worrying patterns of intimidation, arrest, prosecution and ill-treatment of human rights defenders, lawyers and labour rights activists signal an increasingly severe state response.
In a petition calling for Sotoudeh's release, Amnesty International pointed out that women and girls in Iran are not allowed to leave their homes unless they cover their hair with a headscarf and cover up their arms and legs with loose clothing.It adds:
Nasrin wanted to change this and she was jailed for it.

This is the harshest sentence recorded against a human rights defender in Iran in recent years, suggesting that the authorities are stepping up their repression. These sentences keep Nasrin separated from her husband and two children and stop her from being able to carry out her important work as a human rights lawyer.

Call on the Supreme Leader of Iran to release Nasrin Sotoudeh immediately and unconditionally and for her sentences to be quashed without delay.