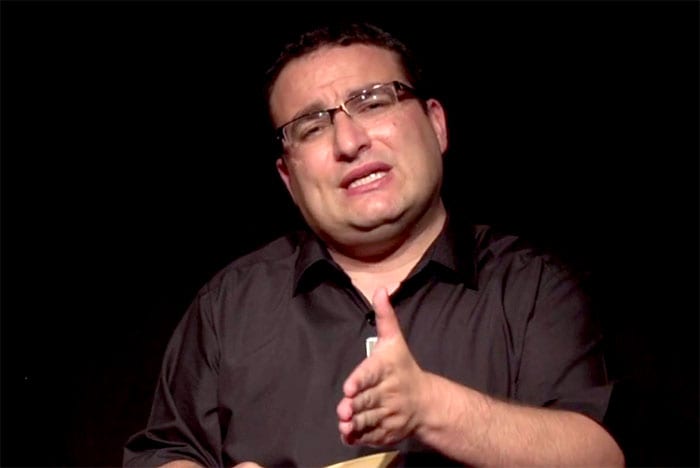 FR KEVIN Schembri, above, a theologian and jurist who teaches at the University of Malta, has deeply upset True Catholics™ by claiming that being gay cannot be bad 'because because God created homosexuals'.
Beneath a LifeSite report of Schembri's views, aired recently on Malta's popular interview programme Xarabank, there is an outpouring of outrage. One person commented:
This priest is a liar! And his father, Satan, is the father of lies! Priest? Really?
Another said:
What BULL Why would God make queers, then condemn it in His word, the Bible?
The most amusing, I thought, was this one:
One thing that I have found to be true is that those who are steeped in the homosexual culture are obsessed with sexual thoughts. The problem is that they honestly believe everyone else is, too.
What I have found to be true is that those who are steeped in conservative Christianity are obsessed to the point of lunacy about gay sex. Every day of the week when I I trawl dozens of religious websites in search of bloggable material, I find reports that provide "proof" that governments, churches schools are the like are buckling under pressure from the "lavender Mafia."
Or as "Kiwiinamerica" put it when he commented on the Schembri report:
They're coming out of the woodwork now, folks. They're everywhere. This is the endgame for the sodomites. It's the final assault. They have the Church in a choke-hold and they no longer have any fear. The hierarchy is now lavender and has the back of priests like this guy and James Martin SJ so they know they can act with impunity.

I see the only solution as being a separation from QueerChurch. The rot is too deep and the corruption too widespread for there to be any other solution. We have to come out from among these perverts.
When asked in the interview if being gay is "bad" in the eyes of God, the priest responded:
It cannot be something bad, because he created it. God created it, and he created it in his plan. Therefore to be gay, meaning when a person in the depth of their heart recognizes that he or she is a person who is gay or lesbian, that person is recognizing how God created them.
After being shown a clip of the two Evangelical Protestants who had vigorously defended their choice to reject homosexual behaviour on the show a week earlier, Schembri was asked to comment. He responded that he who tries to deny his "gay" identity is "harming himself" and implied the two Christians have:
Internalized homophobia.
Asked the show's host, Peppi Azzopardi whether those who are gay and Catholic, need to change, Schembri replied:
No. If he recognizes that he is a gay person as created by God, he does not need to change. Rather, I would dare say, he would be harming himself if he tries not to accept himself or herself as they are as a gay person … this is where what we call 'internalized homophobia' comes in.
Asked if homosexual couples can have "a true relationship of love",  Schembri answered:
Yes. They can have a relationship of love when it is a sincere relationship and of love, as much as it would be good when it is sincere and of love between heterosexual couples.
Author of the LifeSite report, Matthew Cullinan Hoffman, said the Schembri interview:
Is the latest in a series of recent capitulations to the homosexual agenda on the part of Malta's Archbishop Scicluna.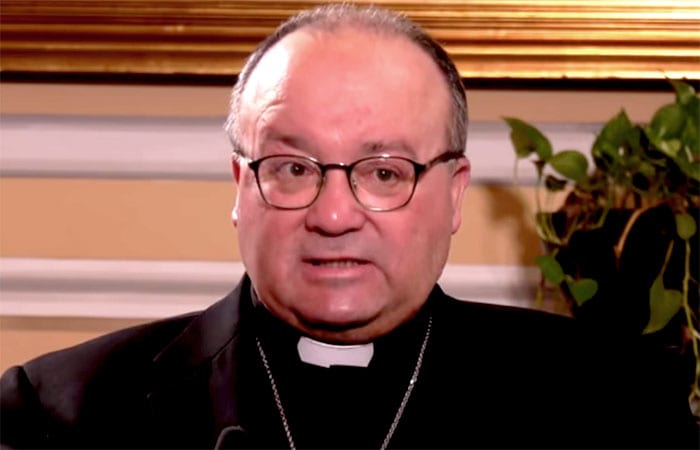 Sciclunn, above, was invited to be interviewed by Xarabank but sent Schembri instead.
Hoffman pointed out that, in 2014, Scicluna celebrated a mass for an LGBT organisation that endorses homosexual unions, and began to permit it to meet in Catholic parishes, retreat centres, and on Catholic university campuses. Scicluna even posted a photo of himself with members of the group presenting him with their book, Our Children, on the archdiocesan website, and endorsed the book's contents.
In February 2016 Archbishop Scicluna suddenly reversed his initial condemnation of a proposed law to outlaw conversion therapy for patients suffering from homosexuality, and took the LGBT position that all such therapy 'goes against human dignity' because it treats homosexuality as a mental illness.

He also repudiated the document's association of the "gay" lifestyle with pedophilia.
Hoffman added:
Scicluna made headlines at the Vatican's recent sex abuse summit when he claimed that the sex abuse crisis in the clergy has nothing to do with homosexuality, despite the fact that the overwhelming majority of cases of sex abuse by priests are committed against post-pubescent boys and young men.
For the record, Malta last year topped Europe gay rights league table for the third year running, despite being a deeply Catholic country. In 2013 Malta languished at the 18th place in the International Lesbian Gay Association's ranking. Five years on, same-sex couples can marry and adopt children, transgender people can freely change their gender identity, and same-sex couples are on the cusp of being granted access to IVF services.