A TOTAL of 90 pupils and staff members at St Augustine's Catholic High School in Redditch, Worcestershire, suffered chemical burns while having ash crosses smudged onto their foreheads during an Ash Wednesday assembly this week.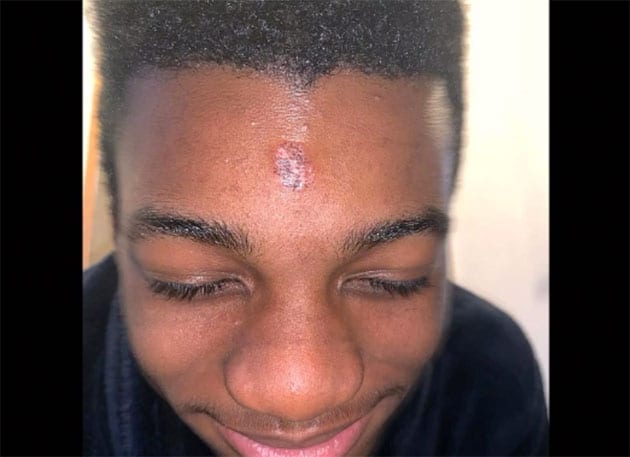 Angry parents said the stupid ritual was performed by a priest and two older children but was stopped half way through when people complained of "tingling".
Cassena Brown, 39, Chairo's mother, said she was furious when she learned that students had the ash smeared on their heads by fellow pupils. Her son needed to take two days off of school as result of the burn.
She said:
I am absolutely furious. They started with the year nine and it was the priest and two sixth form children – a boy and a girl. That's the first thing that confused me when I heard about it. Why are children doing it to other children?

After a while some of the children said that it had started to burn. Some of the teachers said it did as well. Some of them rubbed it off straight away, but some left it on.
Brown said when children complained of burning after leaving the ash on some were given wet wipes.
But when some of the kids wiped it off, it ripped the skin off as well. It was red raw. They should have been sent to a medical professional, not given a perfumed wet wipe.
A grandfather of another burned child said:
They are anointed with a cross on the forehead. The medium used was a mixture of palm oil and ash from burned leaves. They must have picked a toxic leaf as the results in most cases were burns on the forehead resulting in hospital admissions for many children. The parents are contemplating legal action.
St Augustine's Catholic High School said the ash was provided by a priest from the Diocese of Birmingham, which sourced it from a company in Aldridge.
The school confirmed that a total of 90 people, most of them student, were burned in the Ash Wednesday service. It sent a message to the students' parents explaining the injuries sustained during their Ash Wednesday service. A school spokesman said:
The school is dismayed by this event. Those impacted were administered on site by trained First Aiders and then advised to seek further medical attention. An investigation has started and the ashes are being analysed by external experts.

A subsequent report will be made available to all stakeholders and any recommendations will be actioned accordingly.
Saint Augustine's Catholic High School treats students' health and safety as paramount.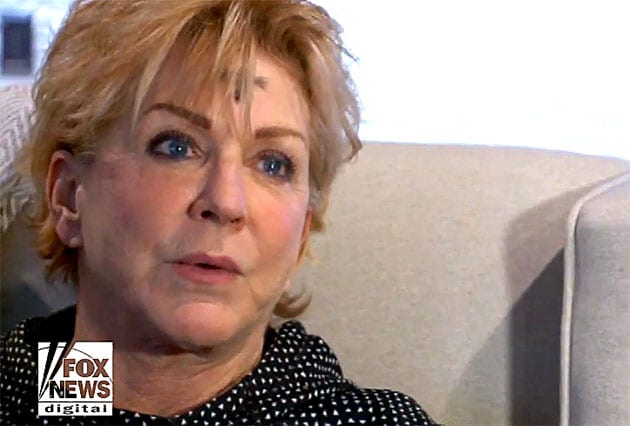 Another angry Ash Wednesay adult is Catholic Karen Fisher, above – but she's got the hump because her grandson was ordered by a teacher at a Utah's Valley View Elementary School in Bountiful to remove a cross smeared on his forehead.
The unnamed teacher who forced William McLeod to wash off the ash has since apologised but may still face disciplinary action.
After the boy, a fourth grader arrived at the school with the ash marking he was approached by the teacher and told to remove it.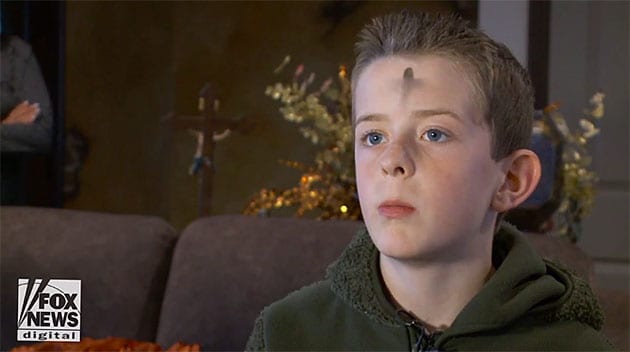 William, above, reportedly attempted to explain why he wanted to keep the ash cross on his forehead, but he said his teacher wouldn't listen.
She took me aside, and she said, "You have to take it off". She gave me a disinfection wipe – whatever they are called – and she made me wipe it off.
Karen Fisher said she was "pretty upset" by the incident and received a call from the school's principal and the teacher who ordered the cross to be washed off.
I asked her if she read the Constitution with the First Amendment, and she said, "No".
Davis School District's spokesman Chris Williams apologised for the incident and said an investigation is being conducted. He said:
Why that even came up, I have no idea. When a student comes in to school with ashes on their forehead, it's not something we say, "Please take off'".
William's family said the teacher apologised with a handwritten note and candy.
Fisher said:
I hope it helps somebody and I hope it never happens again. I don't think it will.