AFTER a jury at Aylesbury Crown Court delivered a guilty verdict against a 75-year-old priest who sexually abused children the 1970s & 80s he was handed a sentence of nine years and 11 months.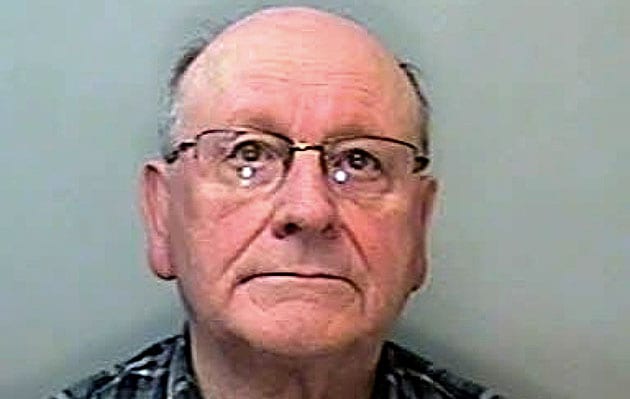 Father Francis McDermott, above, a former Buckinghamshire priest, was found guilty of 18 counts of abuse.
McDermott, of Bideford in Devon, abused the children in his parishes in High Wycombe and Norwich and earlier in London when he was training for the priesthood.
Before his retirement, he was the priest at Our Lady of Lourdes Catholic Church in Bedgrove, Aylesbury.
Jailing Irish-born McDermott, Judge Catherine Tulk said:
You abused the trust of those six children and their parents in a continued and callous fashion.
Before the sentence was passed, one woman victim, from Norwich, told McDermott:
You put your hands down my knickers and snogged me – my first experience should not have been with a Roman Catholic Priest who was 17 years older. I would have been a different person if you had not abused me. I hate you. There is no one to blame but you.
Another woman, from High Wycombe, told the judge:
I naively felt I was complicit. It was an abusive manipulative relationship. McDermott groomed me, my parents and my siblings.
She said her family had been married and baptised by:
A disgusting, despicable, lying monster.
He took her to the cinema to see Emmanuelle and The Exorcist  –  something the judge said was:
An odd choice for a Catholic priest.
The woman said she had lost all faith in the Catholic Church. She claimed that all the Church had done when the abuse was reported by her parents was to move him a few miles up the road.
One male victim, who is now in his late 50s, told the court that McDermott had:
A very high sex drive – he was sex mad. He was always talking about it.
He said the priest had a locked metal cabinet which contained pornographic magazines.
McDermott was convicted of five counts of indecent assault on a boy under 14, one of gross indecency with a child under 14, one of indecent assault on a boy under 16, five of indecent assault on a girl under 14 and six of indecent assault on a girl under 16.
He was cleared of 8 charges: one of rape, five of indecent assault, one of gross indecency and one of buggery.
The judge told McDermott that he had multiple opportunities to admit his wrongdoing when he had been questioned by the church in 1997 and by the police in 2002 and 2005 – something that aggravated the offences. She added that it was "an irony" that a central tenet of his religion was confession of sins.
Detective Constable Catriona Cameron, of the Child Abuse Investigation Department at Aylesbury police station, said:
Francis McDermott was a priest in the Catholic Church held in high regard and was a trusted member of the community. He used his position to befriend children for his own sexual gratification.

The six victims in this case bravely came forward to report the abuse they suffered more than 40 years ago. I would like to take this opportunity to thank them for their courage and support of this investigation.

They have been put through the trauma of a trial adding extra distress to them, and McDermott showed no remorse.
After McDermott's conviction, the Bishop of the Diocese of Northampton, the Right Reverend Peter Doyle, said he acknowledged the immense courage of the victims in coming forward. He said he would be willing to meet the victims and their families.
An NSPCC spokesperson said:
McDermott used his trusted position as a priest to not only groom children but also their families in order to commit sickening abuse.

He probably thought he had long got away with his vile crimes but the young people he manipulated and abused all those years ago have today helped put him behind bars.

Their courage shows that it is never too late to report abuse and for victims who may have suffered for years in silence to come forward and get support.