BIRMINGHAM'S 'ignorance is bliss' brigade, made up almost entirely of Muslims, stands accused of threatening parents with hell unless they sign a petition calling for a halt to inclusive sex education lessons at several of the city's schools.
Local councillor Kerry Jenkins said in a tweet this week:
I have learnt tonight about 'intimidating protests' held today outside Anderton Park School with parents being harassed and told they will go to hell if they do not sign a petition … This behaviour is not acceptable & will be challenged.
Protests began at Parkfield Community School, which introduced a highly praised "No Outsiders" programme, but have spread to other schools, including Anderdon Park in Moseley which does NOT have the programme – and Parkfield, faced with threats and intimidation, was forced to suspend "No Outsiders".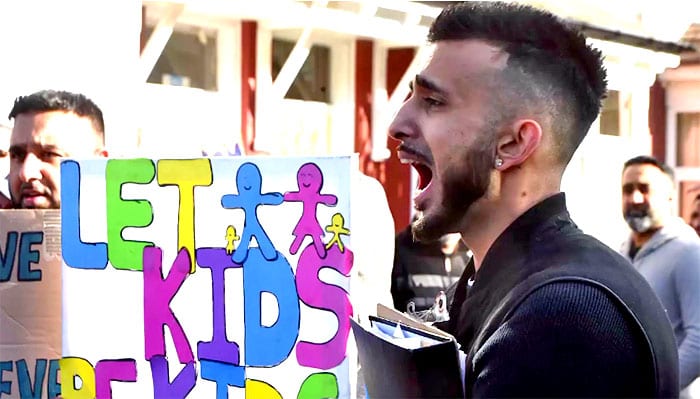 But Shakeel Afsar, above, on behalf of the parents, said the demos will continue at least the end of the week until their demands are met by headteacher Sarah Hewitt-Clarkson.
Afsar, who has no children at Anderton Park, says the protesting parents are not homophobic or against the transgender community, but complained that:
The school is not willing to listen to the parents. We want these lessons about over-promoting homosexuality suspended until a collective dialogue with the local community can be made. There are children who can't use the toilet properly, yet they are being taught homosexual or transsexual relationships.

We also feel once our children are slightly older in secondary school, they will be in a position to decide what they are being taught is correct. We have no confidence in Mrs Clarkson's ability to lead our children.
One mother, who did not wish to be named, said:
Our kids are too small to understand about LGBT. I've got an older son in Year Six and I've no problem about him learning about LGBT – it's fine. But the rest are five and six and too young to understand this. I want to be involved in my kids' education.
Councillor John Cotton, cabinet member for community safety and equalities , said:
Birmingham City Council has for many years championed programmes such as 'No Outsiders' as a way of promoting the values of the 2010 Equality Act. Equality is the law of the land and a right for all, and people can't pick and choose which parts of the Act they support.

We will always as a council stand up for the rights of all our children, whoever they are and whatever kind of family they are from.
Update: I have just discovered the the Council of Ex-Muslims of Britain weighed into this row earlier this month.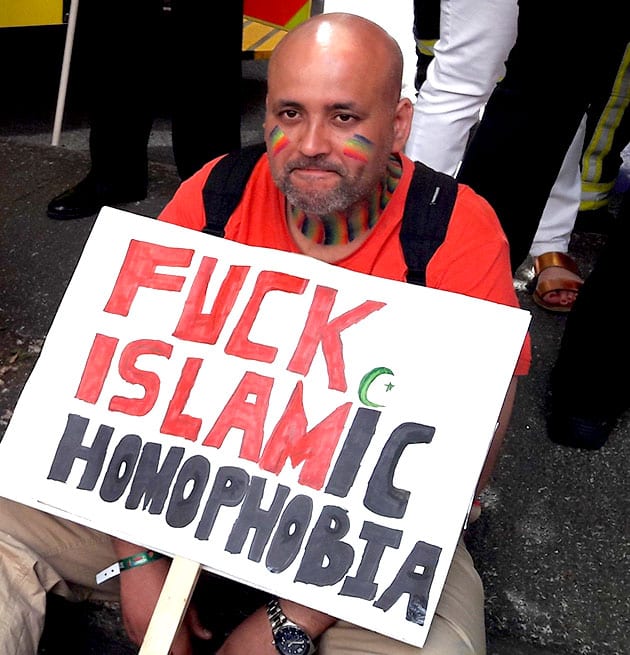 Beneath the provocative photo above, Sadia Hameed, of the CEMB, wrote:
Let's call this what it is, it is religiously charged homophobia. When the issue of religious homophobia cropped up, some of the mothers leading the charge stated that it was nothing to do with their homophobia or religion, that they simply feel that their children are too young and that the contents of the lessons are inappropriate and leading their children to feeling confused.

This is a convenient excuse for parents to cover up their religiously charged homophobia. Unfortunately, due to the space allowed to these Muslim fundamentalist parents, Christian and far right homophobic fundamentalists have also crawled out of the woodwork to join in solidarity with these bigoted parents.

Regrettably, the actions of these parents worst effect those young Muslims that are LGBT in the community, instilling within them self-loathing, shame and embarrassment, which is further encouraged by the likes of Labour MP, Shabana Mahmood, who fully supports and condones the homophobia of their parents.

If the 'No Outsiders' program is scrapped and parents are permitted to have their way, how long before other elements of the Equalities Act are attacked and undermined? Tomorrow, far right groups might start campaigning outside schools, shouting that they don't want their children being exposed to Islamic or Jewish ideas, as it "confuses their children". This is a very slippery road that we are on, if we bend the law for one group, others will demand the same. That was exactly what the Equalities Act was created to prevent.