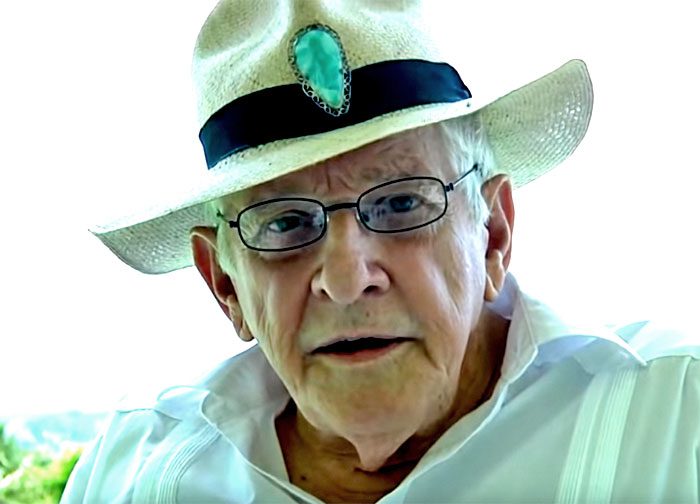 IN October 2016, an ABC News "20/20" investigation exposed the dangerous activities the Genesis II Church of Health and Healing, founded by Jim Humble, above, a crackpot who claims to have come from another galaxy.
His mission on earth is to eliminate 95 percent of illnesses and diseases ranging from cancer to multiple sclerosis with a "miracle" product called MMS.
But MMS, or "miracle mineral solution or supplement" is  simply chlorine dioxide, a powerful bleach that is used both on textiles and in the industrial treatment of water. It has been banned in several countries around the world for use as a medical treatment.
The ABC report focuses on one of Humble's acolytes, 'bishop' Mark Grenon, who reacted angrily to questions posed by investigative reporter Brian Ross.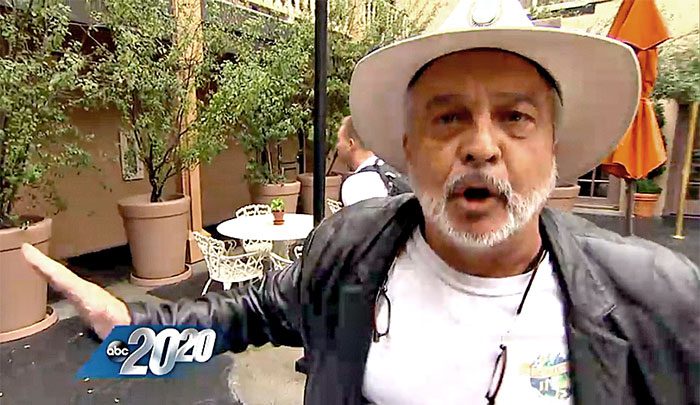 Now you would have thought that the ABC report, which shows a furious Grenon, above, attempting to escape a TV crew, would have have put the "church" out of business – business being the operative word as it charges people $450 to become ordained "ministers".
But the "bleach cult", as some call it, is still going strong, and yesterday (Saturday) it held another of its events in at the Icicle Village Resort in Leavenworth, Washington.
The group invited members of the public through Facebook to attend what it called its "effective alternative healing" event. The organiser, Tom Merry, publicised the event on his personal Facebook page by telling people that learning how to consume the bleach:
Could save your life, or the life of a loved one sent home to die.
The "church" asked attendants of the meeting to "donate" $450 each, or $800 per couple, in exchange for receiving membership to the organisation as well as packages of the bleach, which they call "sacraments". Participants were promised they will acquire
The knowledge to help heal many people of this world's terrible diseases.
In the US, the chemical cannot be sold for human consumption. In 2010, the US Food and Drug Administration (FDA) put out a public warning after it was notified of many injuries to consumers from drinking the fluid, with symptoms that included nausea, vomiting, diarrhea, severe dehydration and one person who had a life-threatening reaction.
The FDA issued the blunt advice:
Consumers who have MMS should stop using it immediately and throw it away.
A keynote speaker a the event was Grenon, who has authored a book titled Imagine A World Without Dis-Ease: Is It Possible?
In a video posted on the "church's" website, Grenon says that the "sacramental protocols" sold by the group can eliminate 95% of the world's diseases, including malaria, ebola, dengue fever, all types of cancer, diabetes, autism, HIV and multiple sclerosis. It sells 4oz bottles of sodium chlorite as "sacramental cleansing water" for $15, giving instructions on how to mix it with citric acid to make chlorine dioxide.
Among the "advantages " of becoming a member of the "church", according to its website, is getting:
Protection against vaccinations, unwanted x-rays, scans, or health insurance mandated by human authority. We are a church and it is against our church's beliefs. People have already used their membership cards to keep from being vaccinated, and from going through scans.
Fiona O'Leary, a campaigner against pseudo science whose work helped to get MMS banned in Ireland in 2016, said she was horrified that the Genesis II Church was hosting a public event in Washington.
This event is endangering people's lives, especially children. We must protect vulnerable people from this dangerous quackery.
This is not the first time that Washington state has grappled with a group touting MMS. In 2015 Louis Smith from Spokane was convicted in the Eastern District of Washington for selling misbranded drugs and defrauding the US. He had sold MMS through a website called Project GreenLife, having obtained sodium chlorite fraudulently by creating a phony "water purification" business.
He was sentenced to four years in prison.
The founder of Genesis II Church, Jim Humble, is a former Nevada gold prospector who claims he came to Earth from another galaxy.
His whereabouts were a closely guarded church secret until "20/20" tracked him down in a small town outside Guadalajara, Mexico.
In a contentious encounter, Humble repeated his claims that the industrial bleach he calls a "miracle cure" should be given to children with autism and women with breast cancer.
Asked about allegations that he is more a con man than a religious leader, Humble said they "ain't true."
He also said he is living in a small apartment, barely making ends meet because other church leaders in the United States have failed to send him his "cut" of the money raised from training seminars.
In a newsletter sent to his followers after the "20/20" encounter, Humble backed off his claims that the church sacrament cures any disease.
Today, I say MMS cures nothing!
Now the founder of the church, who spent the last dozen years promoting MMS as a cure-all, says MMS is just one of a number of:
Important health tools, to combat the ill effects of poor foods, and chemicals that make us sick.
Hat tip: Angela_K