SPAIN has tough anti-homophobia laws, and promoting or carrying out so-called 'conversion therapy' is banned by law in the region of Madrid. Punishments include fines of up to $50,000.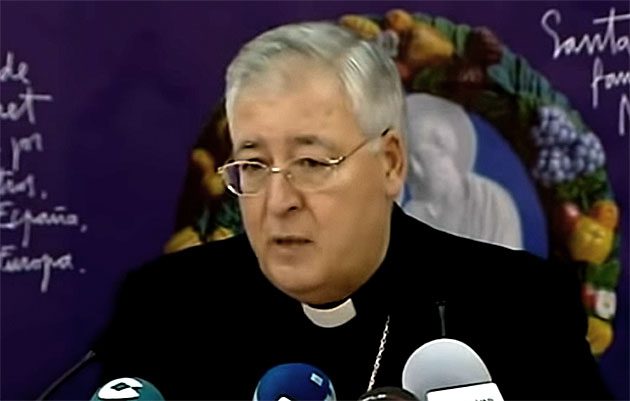 Well, it appears that the Catholic diocese of Alcala de Henares – headed by bishop Juan Antonio Reig Plá, above –  has been breaching that law, and now faces investigation by the regional government.
The move follows a recent report in El Diario that revealed that the diocese, on the outskirts of Madrid, has been running courses for people with a same-sex orientation since 2009, when Plá was appointed as bishop.
In a video posted in the original report by El Diario, a person guiding the therapy is heard telling an undercover journalist, posing as a gay man, that she knows that under the current law in Madrid, what she's doing is "illegal" and could put her in prison.
'Fake news'
The diocese expressed outrage over the report, and branded it as "fake news". In a statement on its website it said that every person must be "respected and loved", and that the diocese doesn't say no to "welcoming and accompanying the people who freely ask [to be welcomed and accompanied]."
The statement closes with requests for prayers for "the freedom of the Church in Spain."
In a more recent report, El Diario quoted Jesús López, spokesperson of the Forum "Cures Madrid y +", as saying that Plá has:
An obsession with homosexuals and wants them to stop being homosexual.

The report also quoted Raúl Peña, spokesperson for CRISMHOM (Community of Christians and Christians of Madrid Homosexuals), as saying it was regrettable that faith-based "cures" had been carried on for years by the diocese, but that:
Thanks to the journalistic initiative of eldiario.es, it has been possible have documentary evidence of them.
He warned that attempts to change people's sexual orientation:
Can produce serious psychological disorders and even lead to suicide.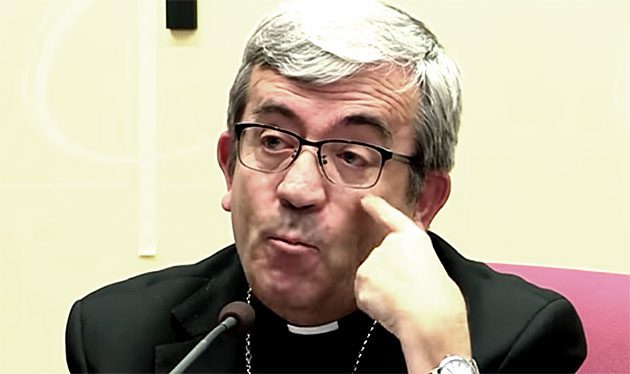 Last Friday, the Secretary General of Spain's bishops' conference, Bishop Luis Argüello, above, supported Plá and said the news report was fueled by "hatred" and that it "manipulates the truth."
He also hit out at protesters who, after reading the original
El Diario
report, interrupted a Mass at the cathedral of Alcala. He said it was  "disrespectful".
The bishops' conference said the news reports about the diocese's "gay cure" courses are nothing but:
A new exercise of manipulation of the truth and intentional disinformation that ends up provoking the 'hatred' it claims to want to avoid or denounce.
Argüello added that "homosexuality is not cured", but said the Church "accompanies" those who are "uncomfortable" with their homosexuality.
We defend the freedom of conscience of each person to face their different existential situations seeking help and accompaniment in the people and institutions that deserve their trust, among these, the Church.
He claimed that when the Church uses the world "healing" in regard to the LGBT community iy uses the word in a "spiritual" context, not a medical one.
In addition, Argüello also argued that Spain has a duty under its constitution, and through international treaties on religious freedom, to protect the Church.
Ratzinger blames clerical abuse on the sixties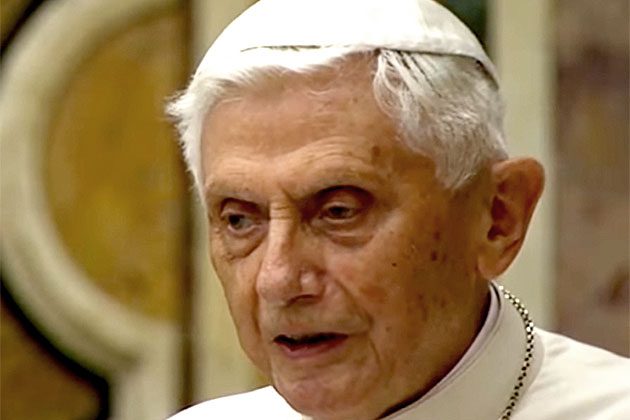 Meanwhile, the BBC reports that retired Joseph Ratzinger aka emeritus Pope Benedict XVI, above, has published a letter which blames clerical sex abuse on the "all-out sexual freedom" of the 1960s.
He said that cultural and historical change had led to a "dissolution" of morality in Catholicism.
The sexual revolution in the 1960s had led to homosexuality and paedophilia in Catholic establishments, he claimed.
In a Crux piece, he is reported as arguing that the scandals reflect a decline in faith in a personal God.
Why did pedophilia reach such proportions? Ultimately, the reason is the absence of God. We Christians and priests also prefer not to talk about God, because this speech does not seem to be practical.
The letter sparked fierce criticism from theologians who claim it is "deeply flawed".
Vatican expert Joshua McElwee said:
It does not address structural issues that abetted abuse cover-up, or Benedict's own contested 24-year role as head of the Vatican's powerful doctrinal office.
Some allegations of child sex abuse by priests that have emerged date back to decades, even centuries, before the 1960s, the decade that Pope Benedict claims sparked the abuse crisis.
Julie Rubio, a Catholic theologian, said in a tweet that the letter was "profoundly troubling".
Hat tip: BarrieJohn (Ratzinger report)