PRESIDENT Trump made Easter all about him and the US economy at the weekend – and is drawing fire for what social media is calling a 'narcissistic' tweet that made no mention of Jesus.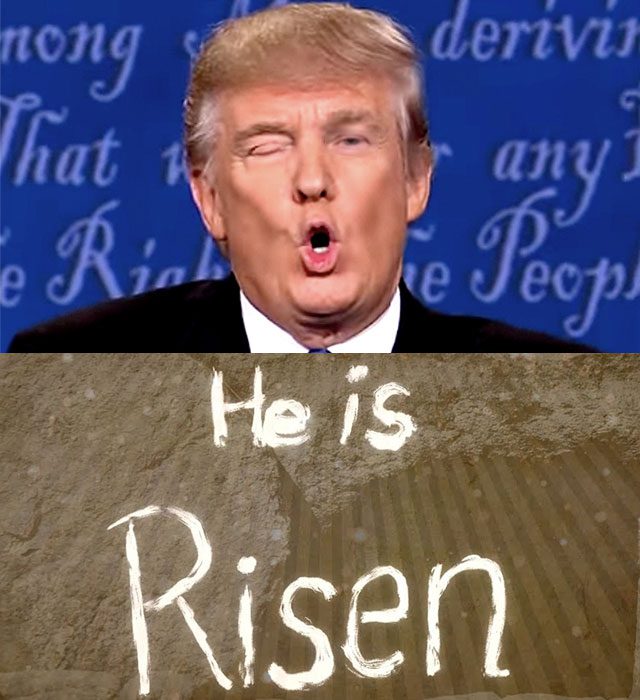 The ninnyhammer wrote:
Happy Easter! I have never been happier or more content because your Country is doing so well, with an Economy that is the talk of the World and may be stronger than it has ever been before. Have a great day!
Many took issue with the nature of the message and one Twitter follower stated that President Trump's tweet had nothing to do with Easter.
Shelly Splanin' tweeted:
This isn't an Easter message. This is a message from a narcissist who isn't capable of showing compassion or empathy for anyone else.
Twitter user Jeff Tiedrich responded thus:
No one could have predicted that our best president ever would make the commemoration of the resurrection of Christ all about the imaginary good job he's doing. that what makes this fluorescent tangerine radioactive tire fire on two legs is the BEST! PRESIDENT! EVERRRRR!!!!!!!!!!"
Trump's Easter message came as a surprise to many who view him as a champion of the Christian faith. He didn't offer any Bible verses, prayer, or even an Easter blessing.
Though the President has his share of supporters who thanked him for his Easter message and for doing a great job with the economy, there were countless who accused President Trump of turning Easter into a brag fest where he boasted about himself.
Another Twitter user responded by writing:
WWJD? Impeach Trump!
Meanwhile an editorial in a UK paper, The Observer, yesterday called for the cancellation of Trump's upcoming state visit to Britain in the wake of the Mueller report, parts of which were branded by the President as "total bullshit".
The prospect of Donald Trump making a state visit to Britain in June is stomach-churning. The corruption investigation led by special counsel Robert Mueller, whose damning report was published last week, provided ample evidence of what we already know: Trump is unfit to hold the office of president of the United States. By his words and actions over two wretched, destructive years in power, he has proved beyond doubt he is no friend of Britain.

The paper's editorial said that honouring this "unworthy man" with a state visit, including an address to Parliament and a carriage ride with Queen Elizabeth II, would give an:
Undeserved boost to a wounded charlatan.
It also attacked Trump's "reactionary policies" on climate change, migration, race, multilateralism, Yemen, nuclear arms and civil liberties.
By his words and actions over two wretched, destructive years in power, he has proved beyond doubt he is no friend of Britain.
Trump hit a wall of opposition among Brits during his state visit to the UK last summer. Almost all of Trump's events took place outside of London, where the crowds of protesters were the largest.
His visit also marked the debut of the famous Trump baby blimp, which depicts the president as a toddler in diapers having a tantrum.
Hat tip: BarrieJohn (Trump's tweet)