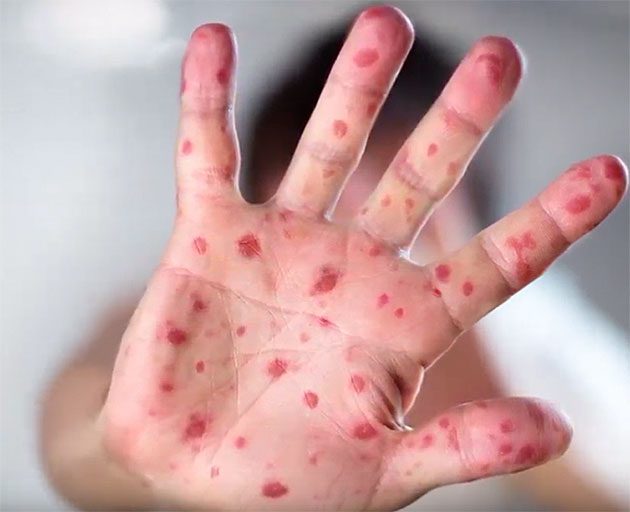 ORTHODOX Jewish colleges (yeshivas) in Brooklyn have been warned that they could face closure if they allow pupils who have not been vaccinated against measles to attend classes.
The  New York City health department's order to all yeshivas in Williamburg comes amid a measles outbreak, with 285 cases of the disease in Brooklyn and Queens since October – most of them involving members of the Orthodox Jewish community.
In a release issued yesterday, health authorities said:
Any school out of compliance will immediately be issued a violation.
The outbreak started when an unvaccinated child acquired measles on a visit to Israel, where a large outbreak of the disease is occurring.
The department said:
Since then, there have been additional people from Brooklyn and Queens who were unvaccinated and acquired measles while in Israel.
Israel's measles outbreak began in September after thousands of mostly Hasidic Orthodox pilgrims brought the virus back from Uman, Ukraine.
The vast majority of measles cases in Brooklyn and Queens are of children younger than 18 years.
Measles causes fever, cough, runny nose, red eyes and rashes and with complications, can cause swelling of the brain and death.
In December, the health department issued its first mandatory directive that yeshivas and child care centres in parts of the Borough Park and Williamsburg sections of Brooklyn must exclude students who had not received the measles, mumps and rubella (MMR) vaccine.
A month later, a yeshiva in Williamsburg fell out of compliance and allowed unvaccinated children back into school or child care. This single yeshiva is connected to more than 40 cases
Debates in the Orthodox Jewish community over vaccinations stem from Torah teachings that followers should not cause the body any damage since it is a gift from God.
But some New York rabbis have called parents to act and get their children vaccinated. Rabbi David Niederman, of north Brooklyn said:
It says in the Torah  … that a person must guard their health.It is abundantly clear on the necessity for parents to ensure that their children are vaccinated, especially from measles.
However, a similar bid to stop the spread of measles in New York's Rockland County
was dealt a blow last week
when a state judge ruled that the county cannot ban unvaccinated minors from public spaces. Judge Rolf Thorsen ruled:
Children are hereby permitted to return to their respective schools forthwith and otherwise to assemble in public places.
The ban was announced in March in Rockland County after more than 150 measles cases were reported. It barred any resident of the county under 18 who had not yet been given the measles, mumps and rubella vaccine from public places such as schools and parks until either the end of the 30-day emergency declaration or until they received the vaccine.
In response, a group of parents filed a lawsuit calling the emergency declaration "arbitrary and capricious".  They said the declaration had led to children being denied attendance at nursery programmess and school.
This has effectively prohibited their movement and denied them the right to congregate and assemble in public places.
Dori Reiss, a professor at UC Hastings College of Law in San Francisco, said that declaration was for a short enough period that it would likely not be worth the effort to fight the court ruling.
Existing law in New York  requires all children to receive certain immunisations for poliomyelitis, mumps, measles, diphtheria, rubella, HiB, hepatitis B and varicella.
But the law also provides an exemption when a physician certifies that the immunisation may be detrimental to a child's health or whose parents "hold genuine and sincere religious beliefs which are contrary" to the vaccination law.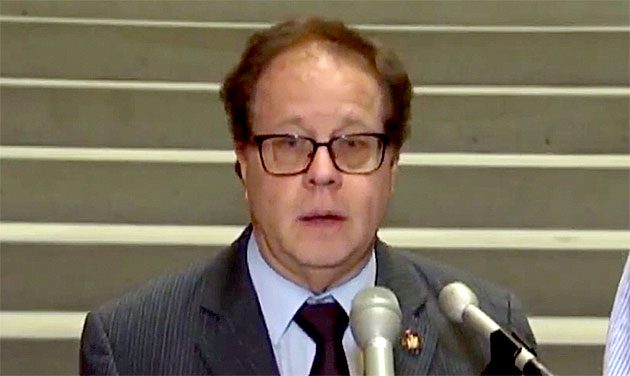 Democratic Assemblyman Tom Abinanti, above, has sought to do just the opposite: He has supported adding more exemptions from vaccinations. He said lawmakers should not be looking to infringe on people's religious beliefs when it comes to vaccines.
In a democracy, public health policy should not violate religious liberty.
See, it's not just the Republicans who have religious idiots in public office.