WHEN one thinks of gay 'cures' in an Islamic context stonings, lashings, beheadings and plunges from the top of tall buildings spring immediately to mind.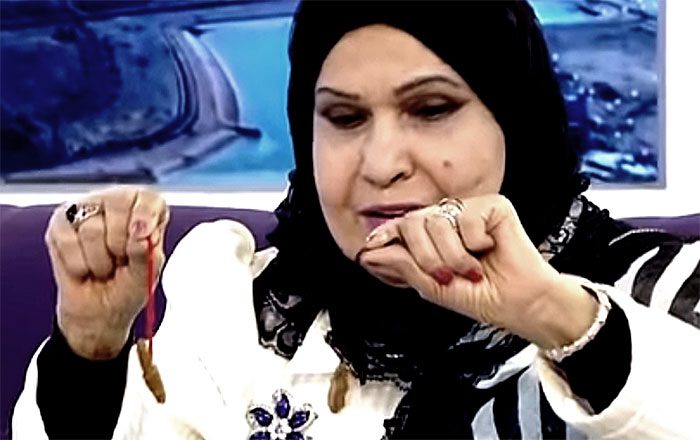 But Kuwaiti "therapist" Dr Mariam Al-Sohel has discovered a far more humane method of curbing the sexual urges of gays and lesbians – special suppositories based on "Islamic science".
MEMRI TV, which records all manner of preposterous pronouncements by Muslim "experts", learned of Al-Sohel's radical "butt-holeistic cure"  from a recent interview broadcast on Scope TV (Kuwait).
Al-Sohel was presented as a "Human Development Advisor" who identifies as a "Reiki Master" on social media and is a member of Toastmasters International.
She said that she received an honorary doctorate in "Sex Management" which is all about "homosexuality and sexual harassment" from the International Union of Universities in Turkey.
She revealed that she'd developed a suppository based on the "prophetic medicine" of the "prophet" Mohammed.
These suppositories , she explained, "cure" homosexuality by exterminating;
The anal worm that feeds on semen.
Dangling the suppositories for the benefit of her interviewer, she claimed that they had been subjected to modern research and testing.
She referred to effeminate homosexual men as "the third gender" and to "butch lesbians" as the "fourth gender" and said that the new treatment "cures" both.
She also claimed to have developed a balanced diet as part of the treatment that includes plenty of "bitter foods" and root vegetables, the consumption of which she said increases masculinity in men.
Any food that is buried underground provides men with stability, strengthens their muscles and increases their masculinity.
She asserted:
This is all science, so there's nothing to be ashamed of. The sexual urge develops when a person is sexually attacked. And afterwards it persists because there is an anal worm that feeds on semen. It feeds on sperm.

So what I did was to produce suppositories, which are to be used by certain people at a certain time. It cures those urges by exterminating the worm that feeds on sperm.
The ingredients used in the suppositories are exactly the same, but come with different coloured string attachments. The have been scientifically tested on people in:
A comprehensive physical, psychological, spiritual and religious programme.
She neglected to reveal the number of people who had benefited from her butt remedy.
In reporting this charlatan's nonsensical claims, Gay Star News pointed out:
It's incredibly dangerous to be LGBTI in the Middle Eastern country of Kuwait.
Same-sex sexual activity is illegal, with the risk of a fine or up to six years in prison. There are also no anti-discrimination laws for same-sex couples, or parenting rights for LGBTI people.
In 2017, news broke of Kuwait deporting 76 men in a crackdown on "gay massage parlors". The mass deportation happened after authorities decided to have a "moral" crackdown on homosexuality.
Some geezer called Mohammad Al Dhufairi led the raids which closed down 22 massage parlours suspected of being "hubs" for homosexuality.
He said at the time:
We have a zero-tolerance policy towards any morally distasteful deeds and we refuse to show leniency with anyone who breaks the rules or puts the health of Kuwaiti citizens and residents at risk.
Hat tip: BarrieJohn