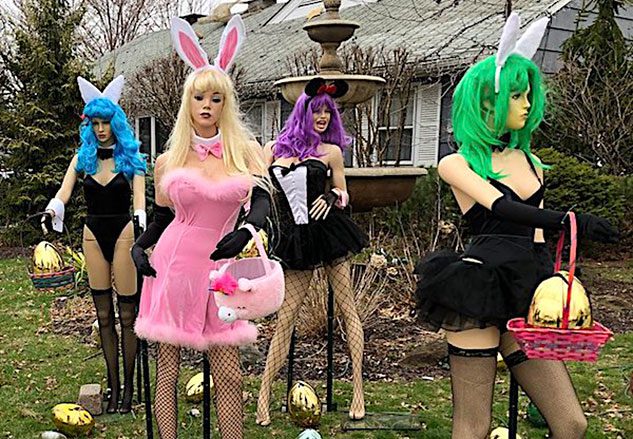 THE destruction of mannequins dressed as Playboy bunnies bearing Easter eggs has led to charges of criminal damage against a New Jersey mom, Desiree Shepstone, 37.
The garden display was created by her neighbour, Wayne Gangi, who practices out of his Clifton home.
Shepstone, who used garden shears to vandalise the mannequins, justified her action by saying the display was "disgusting" and "offensive" and she was trying to protect her son.
I have a son and he's 16 years old, he is a good boy and he does not need to be seeing this every time I pick him up from school.
But the only message he can take from his deranged monther's actions is that it is OK to commit criminal damage.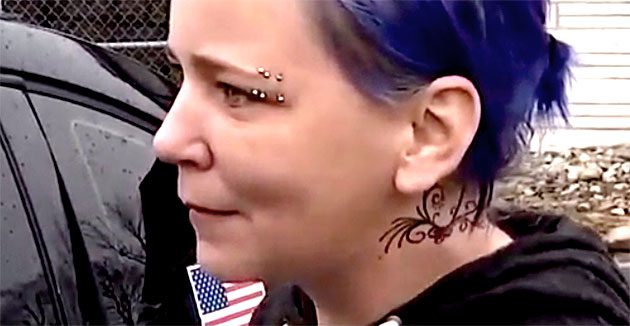 According to locals, Gangi is widely known for his holiday displays, especially on Halloween, but Shepstone, above, said this one "crossed a line."
Others residents defended the dentist, saying his decorations usually brought the community together. One neighbour said:
He has the right to do whatever he wants to do – it's his property.
Upon discovering Ms Shepstone had destroyed his scantily dressed figures, Dr Gangi said he planned to apply for a restraining order to prevent further attacks.
He claimed that accusations that the scene was blasphemous was misguided since it was not even about Easter. In fact, it was to mark what would have been the 93rd birthday of Playboy founder Hugh Hefner, who died in 2017.
My staff helped me put the characters out on the lawn and unfortunately there was a total spin on me attacking the celebration of Easter – it just wasn't true.
Adding that he plans to resurrect the display as soon as possible, he said:
This isn't the first time I had a problem with her. She vandalized my property and for that I'll see her in court. I'm not going to let this type of thing happen by this type of person. She's a troubled neighbor who wanted attention for herself.
According to this report, Shepstone has been charged with third-degree criminal mischief for damage exceeding $2,000.